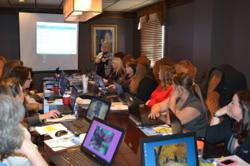 Progressive companies teach their personnel better skill sets to allow them to be promoted or cross-over to other jobs and grow with the company
Murray, KY (PRWEB) April 26, 2011
With increased competition and recent shrinking budgets in both the consumer and business-to-business markets, companies throughout the region are now searching for ways to boost revenues and reduce expenses. Luckily, the new KY WINS program (Workforce Investment Network System), offers solutions for both.
A program offered by the KY Community and Technical College System (KCTCS) provides funding to companies seeking to increase employee productivity and competency through a structured training program. Local businesses not only benefit from an improved workforce, they only pay 35 percent of the training costs while the KY WINS program covers the remaining 65 percent.
"When an employee is trained they become a better employee because they have a better skill set," said David Morrison, Director of External Education. "Better skill sets make them more promotable or advance-able, which means they are going to stay with the company, be better tax payers and stay in our area longer."
The KY WINS program works like this: WKCTC prepares a proposal to submit to local businesses. The college then meets with the business to customize the program and classes.
"The curriculum and the courses are researched and developed by the college to meet the needs of local businesses and industries," Morrison explained. "If we aren't meeting the needs of these entities then we are not meeting the needs of the community. This in itself demonstrates the need for schools like WKCTC; it really emphasizes to the 'community' in Community college."
The CA Jones Management Group in Murray, Ky., understands the importance of investing in its employees. "Two of our book companies, South Eastern Book and College Book Renter (CBR), are growing at an astonishing rate," said Chuck Jones, CEO of CA Jones Management. "In fact, CBR is doubling in size every semester. To give our employees the tools and knowledge they need to accommodate this growth, we had to get on the cutting edge of training and development."
After researching various training and development programs, the CA Jones Management Group discovered KY WINS. "The training WKCTC has developed specifically for our company benefits our employees on many levels," said Courtney Hixon, Senior Vice President of Human Resources. "The program helps employees master their current jobs and gives them opportunities to engage in other areas of professional development. The training that is being offered is teaching our employees how to handle different scenarios in the workplace and contribute to a more productive work environment that will help us achieve our company goals."
In addition to increased productivity and competency, the CA Jones Management Group has reaped some unexpected benefits from the KY WINS program. "Employees are enjoying the training and they are very appreciative that our company is investing time and energy to provide them with the tools they need to be successful," Hixon continued. "I think in the coming months and years, we will see that our commitment and investment has resulted in increased employee retention."
WKCTC's Morrison echoed Hixon's prediction. "Progressive companies teach their personnel better skill sets to allow them to be promoted or cross-over to other jobs and grow with the company," he said. "Better skill sets for employees make them more employable which also helps improve the economic condition of Western Kentucky."
For more information about training and additional offerings through Work Force Solutions at WKCTC, call 270-534-3335 or visit westkentucky.kctcs.edu.
About CA Jones Management Group
C. A. Jones Management Group, LLC, provides an umbrella for the diverse business holdings of Charles A. (Chuck) Jones, of Murray, Kentucky. With a focus on IT service, the company was founded in 1993 when Jones opened Integrated Computer Solutions, a business specializing in providing IT solutions for public schools and government entities. Since then, the company's IT division has expanded to provide voice/data/fiber optic cabling, high-speed wireless broadband, secure hosting solutions for major corporate clients nationwide, and geospatial agricultural data collection tools. In 2001, the company diversified its holdings when it acquired Vintage Rose Emporium, a well-known gift boutique and bridal registry. The retail division has grown to include Elements, a gift and home furnishings store, and University Book & Bean, a coffee shop and book store. In 2008, the company started its textbook division with the acquisition of South Eastern Book Company, a wholesale textbook company. Today, the company's textbook division also includes College Book Renter, an online textbook rental company. One of the newest companies under the C.A. Jones Management Group's banner, CIK Capital is an investment firm specializing in commercial and residential real estate acquisitions throughout the United States. To learn more, visit http://www.chuckjones.net.
About West Kentucky Community and Technical College
West Kentucky Community and Technical College is committed to providing high quality educational experiences, meeting the educational needs of the college community, serving as a full partner in business and workforce development, and contributing to the overall economic and social well-being of the region. As we continue to move toward our vision of the college being recognized as a preeminent community college nationwide, our focus continues to be on access, retention, and student success.
###