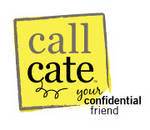 Anonymity gives you confidence to say what is in your heart.
St. Charles, Illinois (PRWEB) September 15, 2011
During times of unemployment, divorce rates creeping up, and the daily demands of family. Call CATE is a way to discuss your concerns, complaints, and fears without worrying about being judged or confidence breeched. Call CATE is an appointment-based telephone service that provides a confidential, anonymous friend for clients to discuss anything on their minds. Everyone needs a friend to talk to, now there is a service which can be trusted to be confidential and not judged. Best of all, clients schedule the appointment when it is convenient.
Call CATE provides someone to help clients look at problems objectively, who they can speak to candidly without hesitation. Kate, the founder of Call CATE, and her extended team bring years of professional and personal experience teaching, helping and inspiring people, at work, in school, and in the home. We have several CATEs to choose from, their bios are listed on the web site.
Clients log into the web site, http://www.callcatenow.com and click on schedule a call to get started. They click on the CATE that sounds most interesting to them and select a time that is convenient. Once the client schedules an appointment they will call 888-441-5625 at their appointment time to connect with their CATE. Appointments are scheduled in 30 or 60 minute blocks for $1 a minute.
About the company:
Newly founded company whose core business is helping clients through giving them a platform to discuss issues, problems, or just simply talk to a confidential, non-judgmental, objective person when it's convenient for the client. Visit our web site to learn more at http://www.callcatenow.com or call 888-441-5625 to get more information.
###