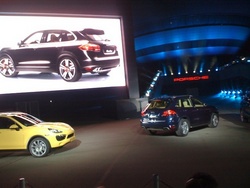 The all new Porsche Cayenne was a big hit with US dealers this weekend in Leipzig
Atlanta (PRWEB) May 19, 2010
The buzz has been out, in March 2010 Porsche introduced the next-generation Cayenne sport utility vehicle at the New York International Automobile show. But now we've seen pictures!
"This 2011 Cayenne is the real deal!" Jimmy Ellis, VP and COO of the Jim Ellis Automotive Group tweeted photos last week from Leipzig German at the dealer reveal of the 2011 Cayenne. "The all new Porsche Cayenne was a big hit with US dealers this weekend in Leipzig."
Doug McIntyre, General Manager of Jim Ellis Porsche says that we can expect the 2011 Cayenne S and Turbo models to arrive on our lot by the first week of August, and the Hybrid to follow later in the year.
"The Cayenne has been a tremendous success in the USA, now in it's 8th year of production, representing almost half of Porsche sales in some years," says McIntyre. "We anticipate the demand for the Hybrid to be stronger than the supply, as Americans are purchasing other make Hybrids in record numbers."
Led by a highly advanced hybrid model, the new Porsche Cayenne sport-utility vehicle delivers improved performance while using less fuel and producing fewer emissions throughout the entire model lineup.
All the new Cayenne models embody the Porsche Intelligent Performance philosophy, the evolution of vehicles sportier than their predecessors, yet more fuel and emissions efficient.
"Porsche Intelligent Performance philosophy is more than a slogan. It is nothing less than Porsche keeping pace with the modern automotive landscape by dramatically lowering emissions, becoming greener and saving fuel," explained Detlev von Platen, Porsche Cars North America President and CEO in a recent press release.
"We will we accomplish this through technology and innovative ideas, just as we have throughout our history, and show that Porsche's high performance and efficiency are not contradictory terms."
About Jim Ellis Porsche
Jim Ellis Porsche is one of the top 25 Porsche dealers in the USA. As the only Porsche Dealer inside the city of Atlanta, they serve customers all over the Atlanta metro area. With all Porsche models in stock, from the 911 Turbo to the new four-door Panamera, Jim Ellis strives to provide both the inventory and the experience Porsche customers have come to expect. Visit our newly remodeled showroom, or visit the Jim Ellis Porsche website
About Jim Ellis Automotive Dealerships
The Jim Ellis Auto Dealerships are a family-owned and operated business with dealerships located in Atlanta and Marietta, Georgia. The Jim Ellis dealerships sell new cars from Audi, Chevrolet, Buick, GMC, Hyundai, Mazda, Mitsubishi, Porsche, Saab and Volkswagen, as well as a wide selection of used cars. To learn more, or to browse a complete inventory online, please visit the Jim Ellis family website
# # #