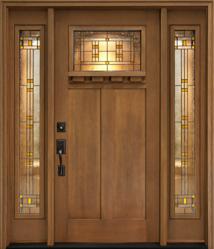 Homeowners can earn up to a $500 tax credit on a new energy efficient entry door installed before December 31, 2011.
Cincinnati, OH (PRWEB) October 12, 2011
The clock is ticking for homeowners who want to take advantage of the federal Energy Tax Credit to upgrade their entry door.
As part of the Tax Relief, Unemployment Insurance Reauthorization and Job Creation Act, homeowners can claim up to a $500 tax credit for qualified energy-efficient home improvements like installing a new entry door on their primary residence now through December 31, 2011. The credit applies to the product only and does not include installation.
"A tax credit is more valuable than a tax deduction because homeowners get a dollar off for every qualifying dollar they spend, while a deduction only decreases the amount of income that is taxed," says Pat Lohse, vice president of residential marketing for Clopay Building Products, a leading manufacturer of garage doors and entry doors.
"There are several long-term benefits to upgrading your front door beyond the immediate tax savings, including year-round energy savings, greater curb appeal and a solid return-on-investment at resale," adds Lohse.
Clopay offers a variety of ENERGY STAR® rated entry doors that qualify for the tax credit, including fiberglass models.
"Fiberglass entry doors are an increasingly popular alternative to wood doors that typically don't hold up to the damaging effects of weather and are not well insulated," says Lohse. "The polyurethane foam core provides five times the insulating value of a wood door, which can lower heating and cooling costs and improve the comfort of a home year round."
Fiberglass is low-maintenance and moisture-resistant, so it won't peel, shrink, rot, warp, or crack like wood. The doors are available in wood grains like cherry, mahogany and oak, and can be painted or stained. The texture is so realistic it is difficult to tell it's not a natural material, even upon close inspection.
Numerous decorative glass designs with complementary sidelites, transoms and hardware can be added to transform an ordinary front entrance into a stunning focal point.
Entry Door Replacement Delivers Best Bang for the Buck at Resale
According to the findings in the Remodeling 2010-11 Cost vs. Value Report (http://www.costvsvalue.com), an entry door upgrade not only enhances a home's curb appeal, the project yields one of the strongest returns on investment when it comes to recouping cost at resale.
The magazine's yearly survey of the most common residential remodeling projects indicates that, on average, spending $1,218 on a steel entry door could pay for itself with a 102 percent return. A fiberglass entry door generates between a 60 to 70 percent ROI, depending on the geographic region.
A small change that makes a big impact – like an updated entry door – brings more reliable returns for two main reasons: it is among the least expensive projects in the report, and it improves curb appeal in a way that can affect a potential buyer's first impression and, consequently, a home's resale value.
"Many buyers judge a house by its exterior," says Marty Dewald, a real estate veteran with a 21-year track record as a top producer for Comey and Shepherd in Southwest Ohio. "A remodeled kitchen and bath can help sell a home, but curb appeal is what gets buyers through the door. If they don't like what they see from the street, chances are they won't waste time going inside."
For a complete list of Clopay entry doors that qualify for the Energy Tax Credit, visit http://www.clopaydoor.com/publicfiles/43960%20CLO%20ENTDR%20Tax%20Flyer%20R1_1.pdf.
About Clopay
With two manufacturing facilities and 51 distribution centers across the U.S. and Canada, Clopay Building Products is North America's leading manufacturer of residential garage doors and a preferred supplier of commercial doors.
Bringing nearly 50 years of experience and innovation to the building products industry, the company maintains a strong family of brands including Clopay®, Holmes Garage Door Company® and IDEAL Door®. Since 1996, Clopay is the only residential garage door brand to earn the Good Housekeeping Seal.
In 2010, the company launched fiberglass and steel entry door lines to complement its popular residential garage door styles. Today, Clopay is the only manufacturer in the industry to offer homeowners the option to coordinate the appearance of the two most important entrances to their home: the front door and the garage.
# # #