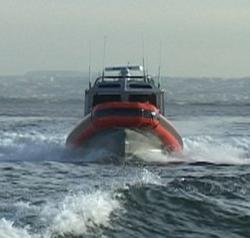 No one factor was responsible for this accident.
Houston, TX (Vocus/PRWEB) March 30, 2011
A tragic boating accident in December 2009 at the San Diego Parade of Lights resulted in the death of an eight year old child. A seven-ton Coast Guard patrol boat crashed into a small pleasure craft. Four members of the crew were charged in the case. The 22 year old boat pilot faced charges of negligent homicide and involuntary manslaughter (United States v. Boatswain's Mate Third Class Paul A. Ramos, U.S. Coast Guard). ATA Associates was contacted by the boat pilot's defense team to investigate the boat and circumstances surrounding the accident.
ATA Associates performed extensive visibility testing on the boat, proving that for a great portion of the operating range, there were significant blind spots while piloting the 33 foot vessel. Seating and standing eye height studies also confirmed the pilot's inability to properly see from the helm. American Boat and Yacht Council (ABYC) standards formed the basis for the testing. Additionally, ATA Associates did light testing to examine additional visibility issues, finding that the shore lighting hampered the operator's ability to identify boat traffic.
ATA's engineering work and expert testimony was instrumental in securing a favorable verdict. The boat pilot was ultimately convicted of a single count of dereliction of duty.
"No one factor was responsible for this accident. While fatalities are always difficult to deal with, it is important that we don't forget the numerous extenuating circumstances involved," said Bob Swint, ATA CEO and expert in the case, "Boat design, visibility issues and improper training, all contributed to this young pilot's misfortune. This particular boat was determined unacceptable for harbor patrols."
ATA Associates' experience in boating accident reconstruction is extensive. From pleasure craft and tugboats to commercial shipping vessels and houseboats, ATA is a leader in the industry. Much of ATA's work has resulted in changes in rules and regulations in the boating industry. Initial testing in the late seventies and eighties resulted in the requirements for kill switches in pleasure crafts. More recent testing into carbon monoxide poisoning linked with houseboats, suggest the need for design changes in exhaust systems.
About ATA Associates, Inc.
ATA Associates is a leading provider of forensic engineering, accident reconstruction, product failure analysis and technical consulting services. ATA does it all with a level of expertise and integrity unparalleled in our field. In fact, ATA Associates has provided expert witness services to defense and plaintiff attorneys for over 30 years earning a level of credibility unsurpassed in the industry.
###