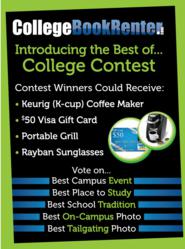 Murray, KY (PRWEB) July 16, 2011
College Book Renter (CBR) is pleased to announce the first ever "Best of" College Contest. CBR is looking for fans all over the country who can display what makes their college experience and school so special. The contest offers "Best of" themes such as "Best" on-campus photo, "Best" campus hangout and "Best" school tradition.
Students will upload photos onto the CBR Facebook fan page to accumulate the most Facebook "likes" in order to win great prizes. Lots of significant prizes are waiting to be given away such as Rayban Sunglasses, Keurig (K-cup) coffee maker, Flip camera, and much more! Each new "Best of" theme will be released every Tuesday and Friday through September 2, 2011. The first "Best of" theme just started with the "Best" on-campus photo to display exclusive campus spots all around the country.
CBR is always searching for new ways to reward loyal customers through contests, giveaways and promotional events throughout the year. CBR continues to provide college students with an alternative to high-priced textbooks and has impacted thousands of campuses across the country with the best prices and best customer service to ensure customer loyalty. Students, parents and teachers are encouraged take advantage of this exciting and interactive contest in order to obtain these amazing prizes and brag about their schools.
For more information, contestants can contact marketing(at)collegebookrenter(dot)com or on Facebook page at http://www.facebook.com/CollegeBookRenter?sk=wall.
About College Book Renter
CollegeBookRenter.com (CBR) is an online college textbook rental company dedicated to saving customers up to 85% on college textbooks. CBR delivers a no-nonsense approach to renting college textbooks. Founded in early 2009 and funded through seed capital previously provided by private investors, College Book Renter has grown into one of the largest and most rapidly growing online textbook rental companies in the nation.
In 2010, CA Jones Management Company's wholesale textbook company, South Eastern Book Company, made an equity investment in CollegeBookRenter.com. While SEB specializes in wholesale textbooks and textbook distribution, CBR has established itself as a major player in the textbook rental industry. These complementary companies share a common goal: to provide thousands of college students around the country with affordable new and used textbooks, and to remain ahead of the curve on textbook market trends.
###