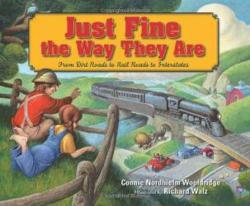 ... a fine philosophical debate to introduce to budding environmentalists.
Cincinnati, Ohio (PRWEB) August 23, 2011
Just Fine The Way They Are: From Dirt Roads to Rail Roads to Interstates, a new release by Calkins Creek (the non-fiction and historical fiction imprint of Boyds Mills Press), is a story about change and resistance, progress and protest, innovation and the American entrepreneurial spirit. Award-winning children's book author Connie Nordhielm Wooldridge and artist Richard Walz worked closely with experts and firsthand accounts to tell a "just fine and accurate" illustrated story of how dirt roads of the 1800s turned into the U.S. highway system of today. This is the fifth picture book by Wooldridge who also earned critical acclaim for her young adult biography of Edith Wharton, The Brave Escape of Edith Wharton (Clarion 2010).
A special plus for educators and home school instructors are three sets of lesson plans and teacher resources Wooldridge developed with two elementary school teachers. These are available to download from her website at no cost. Recommended for ages 8 & up, Just Fine The Way They Are lists for $17.95, and is available at independent and major bookstore retailers nationwide.
Critics agree on the book's important role in engaging children in a discussion about transportation – "…a fine philosophical debate to introduce to budding environmentalists" (Los Angeles Times, July 3, 2011). Roundtable Reviews for Kids writes, "As young readers follow the development of these basic ground transportation systems, they'll discover the importance of those people who not only invent new ways of doing things, but also refuse to give in when obstacles are placed in their way." The author, who lives near the National Road, now I-40, in Richmond, Indiana, provides resources for those readers who want to learn more, including a timeline, bibliography, websites, historic landmarks and places to visit.
The story begins with Mr. John Slack, the keeper of a tavern beside a rutted dirt road in the early 1800s, who thought things were just fine the way they were. Lucius Stockton, who ran the National Road Stage Company in the mid 1800s agreed, and so too did the owners of the railroads when the first Model T appeared in 1908. Yet with each new innovation, driven by Americans need to move around the country more quickly, efficiently, comfortably, and now more "greenly," means things will never be just fine the way they are. Richard Walz, who has illustrated numerous non-fiction titles for children, "provides heroic imagery with a Thomas Hart Benton twang" (Kirkus Reviews, February 11, 2011).
For Educators
On her website, Wooldridge offers three sets of lesson plans and teacher resources for Just Fine the Way They Are, created by Lois Brown and Kimberly Vincent, elementary school teachers for the Richmond Community School district and adjunct professors at Earlham College in Richmond, Indiana. Addressing three subject areas – Social Studies (Transportation), Comprehension and Writer's Craft – the content includes an "Essential Question," "Big Ideas," "Materials and Resources", "Vocabulary," up to four complete "Lesson Plans" and "Explicit Teaching" ideas. The lesson plans for each subject area include handouts, whole classroom and small group activities and readers' response questions. Wooldridge invites educators who use these resources to provide feedback and suggestions, so the information can be revised and updated to best serve teachers and students.
An experienced speaker and presenter, Wooldridge offers four different programs for students, community, civic and professional organizations, writing groups, library audiences, and seniors. Wooldridge can be followed on Facebook and Twitter. She also posts regularly to her two blogs, "Scenes from a Writer's Life" and "On The Writing of Non-Fiction," which can be found and followed by visiting her website, http://www.conniewooldridge.com.
About The Author
Connie Nordhielm Wooldridge's vivid imagination and spirited storytelling are fueled by her love of travel, adventure, and the unconventional way she embraces life. She's lived in seven states, Washington, D.C., Athens, Greece and Seoul, Korea, was a Latin major, a flight attendant for a major airline, raised four children, and worked at her dream job – a librarian in an elementary school. While attending the University of Chicago graduate school, where she received a double Masters degree in library science and education, she was recommended by Zena Sutherland, children's literature professor and editor of The Bulletin for the Center of Children's Books, to serve first on the American Library Association's Newbery-Caldecott Committee and then on the Notable Books Committee. In addition to her five non-fiction picture books for children and a young adult biography The Brave Escape of Edith Wharton (Clarion Books, August 2010), she's written numerous articles and stories for Highlights for Children and Cricket. Her first book, Wicked Jack (Holiday House 1995) won the Irma S. and James H. Black Book Award and North Carolina Children's Book Award, and The Legend of Strap Buckner (Holiday House 2001) earned the Spur Award from the Western Writers of America.
Reviews
"Wooldridge's story of America's land-transportation networks—its roadways and railways—is folksy but panoramic. The informal, affable tone, something like a movie voice-over, works well here, conveying a sweeping amount of material—over a lot of ground and 200 years—as it chugs merrily along, hitting the high points, while Walz provides heroic imagery with a Thomas Hart Benton twang. Fittingly, the story has got real rhythm to it, helped along by the refrain—'Things were just fine the way they were,' thought those who benefited from a soon-to-be-diminished carrier—but most of all by capturing the surging, ever-evolving nature of the country's transportation network."

Kirkus Reviews, February 15, 2011
"How we move around our country — Cars? Bicycles? High-speed rail? — is a big issue in environmentalism, and 'Just Fine the Way They Are' shows readers that making decisions about technical progress is not always easy. Beginning in 1805…the book gives a history of U.S. roads, from dirt track to superhighway. At every point, there were people who embraced new technologies (bicyclists 'claimed the act of walking was on its last legs!') and people who thought things were 'just fine the way they were.' That's a fine philosophical debate to introduce to budding environmentalists."

Los Angeles Times, Sonje Bolle, July 3, 2011
"This tongue-in-cheek picture book presents young readers with an easy-to-understand account of technological advances in transportation and how progress could also encounter resistance from people who preferred the old way of doing things."

Just Fine the Way They Are:
From Dirt Roads to Rail Roads to Interstates
Written by Connie Nordhielm Wooldridge
Illustrated by Richard Walz
Published by Calkins Creek/Boyds Mills Press 2011
Picture Book; Ages 8 & up
$17.95 (US)
ISBN #978-1-59078-710-6 (hardcover)
Calkins Creek Books introduces children to the many people, places, and events that shaped our country's history. Their picture books, chapter books, and novels—nonfiction and historical fiction for ages eight and up—combine original and extensive research with creative, energetic writing. History is key at Calkins Creek. Their authors transport their readers back in time to recognizable places with living and breathing people.
###