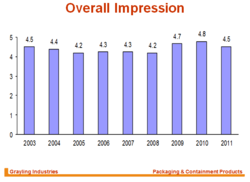 Kurt Ross, President of Grayling, "It is very rewarding and humbling to receive this very positive feedback from our customers."
Alpharetta, Georgia (PRWEB) February 03, 2012
Grayling Industries, a leader in the Industrial Packaging and Environmental Safety Products markets, revealed the results of their annual customer satisfaction survey.
The company surveys its customer base annually to gauge attitudes about the quality of products that they manufacture and the level of service that they provide. The response rate to the survey this year was 19%.
The questionnaire consists of eight questions covering; product quality, product performance, customer service, on-time delivery, industry and product knowledge and pricing.
Scoring is based on a 1 to 5 scale; 1 being "Poor" and 5 being "Excellent". The overall score for 2011 was 4.5. The highest scores awarded were in the areas of customer service and industry knowledge.
Some of the comments received on the survey: "Promises are always kept." "There are cheaper products available, but we believe that the value that Grayling provides is well worth the price." "Grayling is without doubt one of the best suppliers that we have. All of our inquiries are responded to without delay and our orders, modest as they are, are dispatched within the quoted time and received as promised. It is a pleasure doing business with you guys."
Kurt Ross, President of Grayling says, "It is very rewarding and humbling to receive this very positive feedback from our customers".
Grayling Industries is a North American manufacturer of specialized flexible film products for industrial applications. Markets served are industrial packaging and environmental safety. Primary products are intermediate bulk containers and liners for handling liquid and dry materials and products for contamination control on asbestos abatement projects. Brands include; Guardian™ IBC container liners for liquid and dry applications, PaperIBC™ containers and Avail™ glovebags, Control™ chemicals, D-Con™ disposable showers and Durapax™ disposal Bags.
For more information on Grayling Industries, visit http://www.graylingindustries.com or call 800-635-1551 or 770-751-9095
###