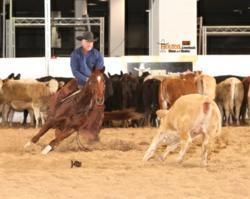 Before Cenegenics, I weighed 235 pounds, squeezed into 36-inch pants and lacked core strength to sit right on a horse. Now I'm better conditioned, lost extra body fat and improved my core strength. I expect to be showing horses well into my 70s.
Las Vegas, NV (Vocus/PRWEB) April 05, 2011
Cenegenics® Medical Institute, the global leader in age management medicine, announced Dr. Paul D. Thompson—CEO/Partner of Cenegenics Dallas-Fort Worth in Arlington—tied for 5th place at the cutting horse event at this year's Houston Livestock Show and Rodeo. The 54-year-old physician credits Cenegenics' healthy aging program for his success in the non-pro events, where his horse made the top 15 in the 35,000 non-pro and tied 5th overall in the finals.
Based on a Western riding style, the cutting sport is arduous, strenuous and adrenaline pumping. Each quarter horse/rider team is judged on the ability to separate a cow from the herd within a short period of time. Thompson plowed through five sets (12-15 contenders in each) with 30 cows in the arena to make "the show"—the finals. That was a far cry from his earlier cutting days when he weighed 235 pounds, squeezed into 36-inch pants and lacked the core strength to sit right on a horse.
"After starting the Cenegenics age-management program, my body became better conditioned, I lost all that extra body fat and my core strength definitely improved. It gave me the ability to train harder and, ultimately, become a better rider. I have no intention of slowing down . . . I fully expect to be showing well into my 70s," Thompson said.
The difference since Cenegenics is evident, he says. In 2009, Thompson went to Oklahoma for the $20,000 non-pro and $50,000 pro events. He only entered three events—and won the amateur beating 80 competitors, was the reserve champion in the $20,000 and made the finals in the $50,000.
His success on Cenegenics' age-management program led him to being trained/certified in the field.
"When my health improved tremendously from the Cenegenics program, I saw a real opportunity to help other people become—and stay—healthier. I knew I wanted to be involved with this unique medical specialty," Thompson said.
For more information about Cenegenics and health news that matters, please visit and "like" their Facebook Fan page, follow them on Twitter and visit their site. You can register for quick access to their Healthy Aging Kit online: informative Guide to Healthy Aging, Executive Summary and media excerpts.
To schedule an interview, please contact Ann Castro, Cenegenics Director of Media Relations: 702.953.1588.
About Paul D. Thompson, MD, FACS
Cenegenics Fort Worth at Arlington — Partner
Dr. Paul D. Thompson is a board-certified urologist and a Fellow in the American College of Surgeons. He is a member of the American Medical Association, Missouri Medical Society and American Urology Association. He earned his medical degree from Kansas City Medical School, later completing a residency in urology at the University of Louisville in Kentucky. He established a private urology practice nine years and was Chief of Surgery, Chief of Staff and head of the Credential Committee for Southeast Missouri Hospital. Later, he turned his focus to proactive medical approach, becoming trained/certified in age management medicine via Cenegenics Education and Research Foundation (CERF).
About Cenegenics
Cenegenics® Medical Institute, recognized leading authority in age management medicine, has two centers in Las Vegas, Nevada, as well as centers in Charleston, South Carolina; Boca Raton, Florida; Dallas, Texas; Arlington, Texas; Atlanta, Georgia; Chicago, Illinois; Beverly Hills, California; Philadelphia, Pennsylvania; Washington, DC; New York City, NY; Tulsa, OK; Jacksonville, FL; Atlantic City, NJ. Additional centers are scheduled to open in other major metropolitan areas in the near future. With an established presence in the medical community, Cenegenics uses a proactive approach based on solid science and comprehensive evaluation. Their established protocols have been recognized as the next generation of medical science, capturing global attention. Cenegenics offers CME-accredited physician training and certification opportunities in age management medicine via the nonprofit Cenegenics Education and Research Foundation (CERF). Headquartered in Las Vegas, Cenegenics serves more than 20,000 patients worldwide—2,000 are physicians and their families.
###