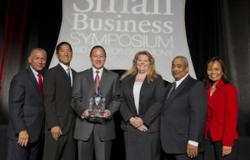 "This award not only recognizes the amazing achievements of the men and women on RF&ESS contract, but also the strong working relationship that we have with our NASA DFRC customer" said Arcata President Tim Wong.
Edwards, CA (PRWEB) December 27, 2011
Arcata Associates, Inc. received NASA's 2011 Small Business Prime Contractor of the Year Award for its work on the Research Facilities and Engineering Support Services (RF&ESS) contract at NASA's Dryden Flight Research Center (DFRC), Edwards, Calif. It is the second time in four years that Arcata has received this prestigious honor.
NASA Administrator, Charles Bolden, and Assistant Administrator – NASA Office of Small Business Programs Glenn Delgado, presented the Award to Arcata at the 4th Annual NASA Small Business Symposium and Awards Ceremony in Washington D.C. At the ceremony Arcata was also presented the 2011 DFRC Small Business Prime Contractor of the Year Award, the Company's third in the past four years.
Upon hearing that Arcata was selected for the Agency-wide award, NASA DFRC Center Director, David McBride responded, "Congratulations again! This is a well deserved recognition. The excellent support that you provide enables NASA and the Center to achieve its goals."
Arcata was selected from among the "Best of the Best" across the 12 NASA Centers Laboratories and Offices across the country. The criteria for the selection includes: performance, responsiveness, cooperation and innovation.
"Arcata Executive Vice President, Anthony Ng; Arcata RF&ESS Program Manager, Leigh Ann Szymczak; and I were proud and humbled to accept this award on behalf of the Arcata RF&ESS Team and the Company, " said Tim Wong, Arcata President. He continued, "This award not only recognizes the amazing achievements of the men and women on RF&ESS contract, but also the strong working relationship that we have with our NASA DFRC customer who has recognized the Arcata RF&ESS Team with eighteen consecutive "Excellent" award fee scores with the most recent being 99%."
Arcata Associates, an award-winning aerospace defense company, is an engineering, Information Technology service provider. The Company has been a contractor to NASA, the US Air Force, and the US Navy since 1979. For more information please visit http://www.arcataassoc.com
###