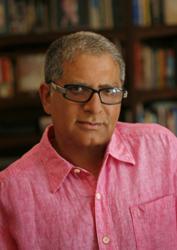 At the meditation retreat, we will reconnect to why we are here and how we can live happier, healthier, and more fulfilling lives, said Deepak Chopra.
San Diego, CA (PRWEB) June 30, 2011
This July 3–9 the Chopra Center for Wellbeing is coming to Whistler, B.C., with the Seduction of Spirit meditation and yoga retreat. For more than a decade, participants from throughout the world have been drawn to this popular event, offering a week of deep meditation, heart-opening yoga, and other timeless practices for renewal and well-being.
Chopra Center co-founder and mind-body healing pioneer Dr. Deepak Chopra said, "Seduction of Spirit is one of my favorite events . . . an opportunity to go deeply into these profound yet simple practices that gradually release stress, tension, and emotional toxicity from our mind and body.
"Each day, as we meditate, practice yoga, and engage in meaningful discussions with like-minded people, we reconnect to why we are really here –– and how we can live happier, healthier, and more fulfilling lives," Dr. Chopra said.
Seduction of Spirit will take place this July 3-9 at the Fairmont Chateau Resort in Whistler, B.C. There are a few remaining seats, and guests are eligible to receive resort special rates that can be extended after the event so that they can stay in Whistler and enjoy the many local attractions and activities.
"We're excited to bring Seduction of Spirit to this gorgeous area of the world for the third time," said Chopra Center Event Director, Amanda Ringnalda.
"Summertime in Whistler is spectacular, and guests will experience beautiful sunrise meditations at the Woodlands Terrace overlooking the entire village, connect to nature with morning trail walks, dine on delicious meals prepared with herbs picked fresh from the Fairmont gardens, and enjoy nightly entertainment with special guest performers."
At this special Seduction of Spirit, the Chopra Center will be releasing a new CD –– Sacred Chants –– with world-renowned platinum recording artist and songwriter Beth Nielson Chapman. Beth will offer a live musical performance with songs from the new album at the event.
For more information, call 888.736.6895, or visit http://www.chopra.com/seduction
About the Chopra Center
The Chopra Center for Wellbeing was founded by Deepak Chopra, M.D. and David Simon, M.D. in 1996. Located in Carlsbad, California, the Center offers a wide variety of programs, retreats, and teacher training programs that integrate the healing arts of the East with the best in modern Western medicine. The Chopra Center has helped millions of people around the world find peace of mind, physical balance, and emotional healing. The website http://www.chopra.com is your starting point on the path to wellness.
Media Contact:
Kathy Bankerd
Marketing Director
(760) 494-1609
###