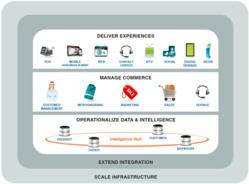 Retailer success in this dynamic consumer environment is predicated on technology.
Burlington, Mass. (PRWEB) November 16, 2011
Demandware®, Inc., a leader in on-demand ecommerce, today announced Digital Commerce Management (DCM), the next-generation of the company's open cloud strategy to manage all digital interactions between brands and their consumers. DCM enables retailers to design, build, manage and deliver highly-branded consumer experiences into any web-enabled channel, application and device. The strategy is delivered entirely in the cloud, which removes the burden of infrastructure maintenance and redirects retailer and branded manufacturer resources toward brand engagement, innovation and more profitable operations.
Eighty-seven percent of retailers surveyed by Forrester Consulting acknowledged they have to improve their existing multi-channel capabilities to serve the new and digital consumer.(1) DCM details a clear path forward for retailers, and is a public declaration of Demandware's past and future vision for its product, solutions, services and partner ecosystem strategy.
Overview of DCM Framework
DCM weaves together five technology imperatives required to deliver a seamless and consistent brand experience: 1. Deliver Experiences, 2. Manage Commerce, 3. Operationalize Data and Intelligence, 4. Extend Integration, and 5. Scale Infrastructure. For details regarding imperatives and operating principles see the whitepaper entitled "Digital Commerce Management Enables Highly-Branded Digital Engagement."
Demandware Advances Against DCM Strategy
DCM will continue to guide investments in Demandware's platform and partner ecosystem to support its more than 300 commerce websites, including many industry leading retailers and branded manufacturers globally. Over the past 18 months, Demandware has executed against its DCM vision by making portfolio enhancements that include:

Open Commerce APIs: Cross-channel integration to syndicate and synchronize critical commerce information such as promotion, price, order, customer record, content and images to anywhere consumers and store associates interact with web-enabled devices
Commerce Center: The new application enables merchants to manage commerce via an intuitive user interface and seamless workflow that provides single view into digital operations across channels
Product Content Management: Retailers operationalize data directly within the Demandware Commerce platform to source, manage, and control product information across digital media -- within the context of user experience versus back office application
LINK Partner Ecosystem: More than one hundred pre-integrated technology and certified solution partners extend capabilities of the Demandware platform to cover all direct-to-consumer requirements
Cloud Infrastructure: The extension of the global network to support the growing number of international operations by continually scaling its cloud infrastructure
As its next milestone in the DCM strategy, Demandware will unveil order management and customer service capabilities tightly integrated into the Demandware Commerce platform. By building this into its commerce platform, Demandware enables retailers to deliver better merchandising and service to consumers. Service representatives and consumers will directly be able to manage order placement, status, payments, returns and issues across channels and devices -- governed by universal pricing and promotions for consistent experiences across channels.
In the recently released industry mandate, "The Digital Directives: A Commerce Technology Manifesto" retailers highlighted that they must do more with less, and have expressed frustration with commerce technology and providers. DCM clearly and boldly addresses the challenges set forth in the Manifesto.
"Retailer success in this dynamic consumer environment is predicated on technology. And we heard loud and clear that retailers expect commerce technology providers to do a better job solving business problems, delivering better products, and accelerating innovation," said Tom Ebling, CEO of Demandware. "Our company was built on openness, innovation and mutual success. DCM is not only a strategic response to the industry's challenge, but transparency regarding the vision for our portfolio."
(1) A Forrester Consulting thought leadership paper: The Future of Retail and Tomorrow's Consumer, June 2011.
To read more about Demandware and Digital Commerce Management, visit the Demandware Commerce Innovations Blog.
About Demandware
Demandware is a leading provider of software-as-a-service (SaaS) ecommerce solutions that enable companies to easily design, implement and manage their own customized ecommerce sites, including websites, mobile applications and other digital storefronts. Customers use our highly scalable and integrated Demandware Commerce platform to more easily launch and manage multiple ecommerce sites, initiate marketing campaigns more quickly, and improve ecommerce traffic. For more information about Demandware, visit demandware.com, call 888-553-9216 or email info (at) demandware (dot) com.
Demandware is a registered trademark of Demandware, Inc.
Media Contacts:
Marci Stone
Matter Communications
Office: 978-499-9250 x238 Mobile: 603-205-6344
Email: Demandware (at) matternow (dot) com
Christine Major
Corporate Communications Manager, Demandware
Office: 781-425-1228 Mobile: 603-743-4534
Email: cmajor (at) demandware (dot) com
###