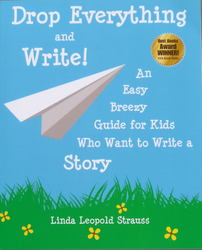 Its inviting prose, thought-provoking exercises, and natural flow make it indispensable for aspiring writers and those who teach them.
Cincinnati, OH (PRWEB) February 23, 2011
Today's youth are writing more than ever before – on Facebook, texts, blogs, emails and in the classroom. But for those young teens who love creative writing and are seeking a guide to help them improve their technique and develop their style, there is a new book written expressly for them. DROP EVERYTHING AND WRITE: AN EASY, BREEZY GUIDE FOR KIDS WHO WANT TO WRITE A STORY(E&E Publishing, December 15, 2010) is the eighth book by award-winning children's author Linda Leopold Strauss. DROP EVERYTHING AND WRITE! shows readers how to mine their world for story-starters; how to collect details to enrich their writing; how to create characters, establish settings, construct plot, write dialogue; then how to put all these things together into a complete, engaging, successful story.
The winner of USA Book News Best Books 2010 Award in the Young Adult Educational category, DROP EVERYTHING AND WRITE! also has a Facebook page where the author posts writing tips and invites writers to ask questions and post thoughts about their writing. DROP EVERYTHING AND WRITE! lists for $15.95 and is available on Amazon.com and through independent and major bookstore retailers across the country.
Writing exercises are sprinkled throughout the text, many of them field-tested on students when the author visited classrooms in conjunction with her other titles. To build confidence right from the start, Strauss first offers exercises all young writers can do and then carefully moves them on to practice of the more specific writing skills they will need to create a complete, well-structured story.
"I hope that as they work through the exercises in the book, young writers realize that the ability to write well isn't some special talent handed down from on high," comments Strauss. "It's something that, with practice, everyone can do. And in addition, it's fun!"
David Richardson, book review columnist for International Reading Association's Reading Today, wrote "DROP EVERYTHING AND WRITE! is a book that should be bought in single copies and classroom sets. Its inviting prose, thought-provoking exercises, and natural flow make it indispensable for aspiring writers and those who teach them." Author and teacher Andrea Cheng (ONLY ONE YEAR, BRUSHING MOM'S HAIR) comments, "…I have found the book to be equally helpful for adult writers. The format of the book is clear and easy to follow. My adult writers were inspired….Such a great book for new writers of all ages."
Available soon: A DROP EVERYTHING AND WRITE! Companion Notebook (E&E Publishing 2011) includes exercises from the original book presented in a format that provides space to complete the exercises and keep journal entries and other notations in one place.
The Author
A graduate of Vassar College and Columbia University, Strauss began her writing career when her daughters were young. She has published stories in numerous children's magazines (Cricket, Spider, Ladybug, Hopscotch, Astrapi, School), and eight books for readers aged 3-years through teens that have been translated into French, Italian, Swedish and German. PRESCHOOL DAY HOORAY (Scholastic/Cartwheel, 2010), was selected by Scholastic as one of their "Top Picks for Back to School Books". Her other books include, THE PRINCESS GOWN (Houghton-Mifflin, 2008), REALLY, TRULY, EVERYTHING'S FINE (Marshall Cavendish, 2004), A FAIRY CALLED HILARY (Holiday House, 1999), THE ALEXANDRA INGREDIENT (Crown, 1988), which was a nominee for the 1990 Mark Twain Award, and COPING WHEN A PARENT HAS CANCER (Rosen, 1988), named one of the "Best Books for the Teen Age" by the New York Public Library. Her next release is a Passover picture book entitled THE ELIJAH DOOR, due out from Holiday House in 2012. Strauss, the mother of two grown daughters and grandmother of two, lives with her husband in Wyoming, Ohio. Study guides for her books can be downloaded at http://www.lindaleopoldstrauss.com.
Reviews
"Where was this book when I was still teaching?! It is a treasure. It is hands-on, practical and nonthreatening. I kept imagining a classroom brainstorming each chapter's exercise just to get the juices flowing....What fun to share ideas & experiment before committing words to paper. The steps for polishing the story work for the student as well as providing a tool for the teacher to critique a student's story." -- LSSD, Reader Review
"…Better even than the fact that such a lot of good information (including an index and glossary) is packaged so succinctly and engagingly is the tone. Strauss is obviously having fun writing this book and her exuberance will undoubtedly infect her readers, convincing them that writing is less a task to be accomplished than a good time to be enjoyed." -- Connie Wooldridge, author (THE BRAVE ESCAPE OF EDITH WHARTON, WICKED JACK).
# # #