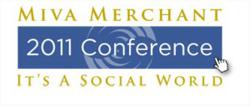 We're so excited to have such a diverse group of entrepreneurs gathering here in San Diego.
San Diego, CA (Vocus/PRWEB) March 10, 2011
Leading ecommerce software and hosting company Miva Merchant is currently holding its annual conference from March 9-12th at the Hyatt Regency La Jolla in San Diego, CA.
This year's theme,"It's A Social World," focuses on the links between social media and ecommerce, and will be presenting online merchants and developers with ideas and techniques for seamless integration.
Featured speakers will include BlitzLocal CEO and Facebook marketing expert Dennis Yu, CEO and President of Site Tuners Tim Ash, founder and CMO of the Social Media Marketing Institute Hal Lublin,and many more.
Breakout session topics range from Miva Merchant business integration, PPC campaign strategies, building a PCI-compliant network configuration, and various other social media and ecommerce-related topics, as well as tips on how to customize Miva Merchant storefronts and maximize the benefits of both Miva Merchant software and modules.
"We're so excited to have such a diverse group of entrepreneurs gathering here in San Diego in order to grow and propel their businesses to the next level," says Miva Merchant President and COO Rick Wilson. "Every year we hear over and over again how this is the single-most important event our customers attend each year, as it gives them a chance to work on their business instead of in their business and network with like-minded online store owners while training with ecommerce industry leaders."
About Miva Merchant
Miva Merchant offers a complete e-commerce solution consisting of PA-DSS validated shopping cart software, PCI compliant ecommerce hosting, credit card processing services and custom website design & development. Over 50,000 merchants use Miva Merchant's highly customizable, intuitive and scalable ecommerce software. These merchants range from hand-selected boutique product stores to manufacturers directly integrating their manufacturing with distributor access and an online retail presence.
###