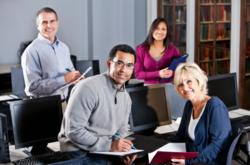 (PRWEB) December 20, 2011
The National Financial Educators Council (NFEC) announces their employee financial education program will launch the first quarter of 2012. The workplace financial education program has been added to their current adult financial literacy offerings.
The NFEC will launch three versions of the employee financial education program in February 2012: full-production, self-hosted and a third party delivery version. The NFEC handles all details of designing, implementing and reporting in the full-production version of the employee financial education program. In the self-hosted version, the NFEC trains and certifies (Certified Financial Education Instructor program) the employer's personnel that will be delivering the coursework. The third party version provides financial professional the tools, training and resources needed to conduct effective workplace financial education programs.
With the current economic conditions, many employers have found that their workforces are struggling with financial issues. The American Psychological Association's 2010 survey, Stress in America, over three-quarters of Americans cite money as being a significant cause of stress. Retirement shortfalls, debt, the possibility of losing a home and other issues weigh heavily on the minds of the American workforce. The PricewaterhouseCoopers' Financial Wellness Survey conducted in 2011 found that among workers, 29% said personal financial issues have been a distraction at work and almost half (48%) said they have handled personal financial matters during work hours.
Leading workplace wellness experts have found a direct correlation between financial stress and productivity. Often times worry about personal financial issues leads to an increase in absenteeism, decreased productivity and unhealthy coping behaviors that can cause safety-related problems in the workplace.
"The American workforce needs our assistance," states Traci Allan of the NFEC. She continues, "Many people just need answers to a few simple personal finance questions that can reduce their financial stress, but they don't know who to turn to. Others need a comprehensive personal financial education to help them secure their future retirement goals or to get out of debt."
The National Financial Educators Council provides financial finance courses for youth, adult and for employee financial education needs. The NFEC serves non-profit organizations, schools, financial professional and concerned citizens interested in improving the financial capability of those they serve.
###