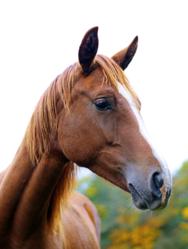 "Hygiene practices are likely to be more effective than widespread vaccination." - UC Davis Veterinary School
Meridian, Idaho (PRWEB) June 15, 2011
In response to the outbreak of equine herpes (known as the EHV-1 virus) that has resulted in the death of 12 horses this spring, Dynamite Specialty Products has introduced a package of products to support the immune system of horses that have been exposed as well as an all-natural cleaner for tack and trailers that might be carrying the virus.
The combination of products is designed for boosting immune systems against equine herpes and following the recommendations of the University of California, Davis Veterinary School. It suggests that "enforcement of . . . hygiene practices are likely to be more effective than widespread vaccination in reducing the risk of acquiring EHV-1 infection."
"The package contains our new Blanket & Barn Wash, as well as Solace and two related products to support the horse's immune system," said Callie Novak, Dynamite CEO. "Although all of the products are available separately, the new package is offered at a discount and will make it easier for horse owners to be sure they have the appropriate items on hand."
The Dynamite package for EHV-1 costs $416, offering a 10 percent savings over the $465.45 cost of buying all four ingredients separately. Components are as follows:

S.O.D. and Hiscorbadyne are important, Novak said, because the EHV-1 virus is carried by most horses and only manifests itself when the horse is under stress. Once a horse "sheds" the equine herpes virus, EHV-1 can spread to other horses quickly. Outbreaks are common after horse events, she noted, as competitions and the related travel typically are stressful for horses.
"If you suspect that your horse has been exposed to EHV-1 or that your horse is exhibiting signs of equine herpes, you should always seek advice from a veterinarian," Novak said. "The products we offer are not a 'cure,' but are designed to support the horse's immune system and help with the recommended hygiene practices to keep equine herpes from spreading."
A family-owned business that has specialized in animal nutrition for four generations, Dynamite Specialty Products makes products for virtually every member of the animal kingdom. It has long developed food and nutritional supplements for prize-winning racehorses and working dogs across the country.
Its specialists in horse nutrition and animal nutrition can recommend exactly what vitamins, minerals and other supplements best support horses with weakened immune systems, dogs with arthritis, cats whose owners make their own food, and cows with digestive issues.
Dynamite has worked with veterinarians and university researchers to produce specialty foods to correct nutritional deficiencies in animals ranging from Canadian muskoxen to peregrine falcons to zoo exotics.
Dynamite uses only natural ingredients, made in the United States for better quality control. Throughout its history of making natural horse feed, it has always looked at alternatives to animal by-products, antibiotics, chemical preservatives, fumigants, artificial coloring and other additives that have later caused health problems. Its manufacturing processes are so stringently controlled that Dynamite has a separate mill to produce feed for herbivores, such as horses and poultry that are especially sensitive to contamination from meat needed by other species such as dogs and cats.
Additional information on natural horse feed, horse vitamin and mineral supplements and the equine herpes package is available at DynamiteSpecialty.com or by calling (800) 697-7434.
# # #