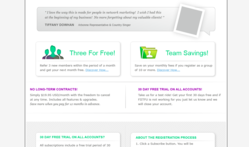 We want to reward our members for spreading the word of Fiitfu
Burnaby British Columbia (PRWEB) December 13, 2011
There is nothing new about referral programs, other than Fiitfu now offers one as well. In this day and age, it pays to share good deals and tools, as doing so can equate to receiving them for free yourself.
Fiitfu an online customer management system, has introduced not only a referral program, but as well a team savings program. With the rush of people now using these online tools, having a team savings program and referral program only makes sense.
"For most business's, growth is often related to referrals and word of mouth" says marketing director Darren Davis "we watch our members coming in and the majority of them is because of referrals. We want to reward our members as our way of saying thanks".
Referrals are what make the world go round, a referral is better than any add out there. If you have good service, why not let others know!
About Us: Fiitfu is an easy to use, web based client management system. We take all of your client profiles, excel sheets, order forms, sticky notes and put them into one easy to use location. Fiitfu the easy to use CRM that takes your clients to the Cloud.
###