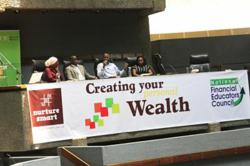 Los Angeles, CA (PRWEB) December 13, 2011
The National Financial Educators Council (NFEC) partnered with NurtureSmart to launch a financial literacy campaign in Kenya and surrounding African Countries. This campaign is aligned with the Kenya Vision 2030 which is a development blueprint that covers the period 2008 to 2030. Its objective is to help transform Kenya into a middle-income country that provides a high-quality life their citizens by the year 2030.
The Kenya Vision 2030 plan sets aggressive GDP growth goals. The NFEC and NurtureSmart focus their efforts to empower the citizens with financial literacy skills sets, so they can maximize the opportunities that open up with economic, social and political growth. "Financial literacy programs and additional life skills training will help people to take advantage of the improving economic conditions," states Traci Allan of the National Financial Educators Council.
The campaign launched earlier this year with the Financial Literacy Conference that attracted participants from Nairobi, Mombasa, Eldoret, Nakuru, Sotik, Busia, Kisii and Kericho. The conference registered 221 participants who were made up of students, business owners, employees, community workers and advocated. The conference was officially opened by the Permanent Secretary for Education, Prof. James Ole Kiyiapi, and Purity Nyamu Founder of Nurture Smart produced the event.
The initial rollout of this campaign brought together financial literacy experts and leaders from around the Country, including Prof. James Ole Kiyiapi, the Permanent Secretary, Ministry of Education. Financial literacy in Kenya is a new topic, and the first event met key objectives which included: community awareness, key leader support, media coverage and creating a platform for collaboration.
Now in its second stage of the financial literacy campaign, the NFEC and NurtureSmart are focused on providing teacher training to educators in the region so they can teach financial literacy effectively. This is in the financial literacy funding stage of the initiative, and the financial educator training can start as early as the second quarter of 2012.
The NFEC educator training program and financial literacy curriculum will be modified to align with the values the target audience. The book "Your Wealth at Your Fingertips," written by Purity Nyamu, founder of NurtureSmart, will also be used as classroom coursework. This phase of the initiative is designed to serve over 300 teachers located in Kenya and surrounding African countries.
NurtureSmart is a organization based in Kenya that offers financial education services to educators and citizens since 2006. NurtureSmart instructors have been certified by the NFEC and have earned their Certified Financial Education Instructor status. The NurtureSmart programs meet the NFECs' financial literacy standards and are designed to improve the financial capability of those they serve.
A global provider of financial literacy resources and training, the NFEC, is dedicated to improving the financial capability of those reached. The NFEC is a social enterprise organization that has served organizations from over 40 countries and continues to share the best practices in financial education with other communities globally.
# # #