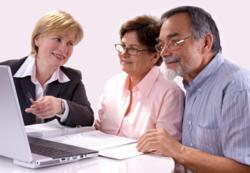 I know by contributing to the financial literacy curriculum my knowledge can impact youth across the country.
Los Angeles, CA (PRWEB) November 22, 2011
The National Financial Educators Council (NFEC) is currently searching for experienced financial professionals, educators, and/or anyone with specialized financial literacy knowledge to serve on its 2012 Curriculum Advisory Board.
The NFEC offers a financial literacy curriculum designed by a team of educators and financial professionals. The stated objective of NFEC curriculum development is to create content that meets educational standards while offering practical tools to help people prepare for the financial "real world." Curriculum content is updated annually to incorporate the latest information. To facilitate each annual update, the NFEC builds an advisory board comprised of experts like financial advisors, realtors, mortgage specialists, credit and investment professionals, and educators.
Qualified advisory board members will possess an expert level of knowledge about one or more specific financial literacy topics, and have a strong desire to improve financial capability among our country's youth. Curriculum advisors assume responsibility to review two or more sections (each about four pages long) of the NFEC's financial education instructors' guide. Advisory board members contribute comments and ideas to refine the curriculum package and ensure that its content is up-to-date. Interested educators and financial professionals may visit the NFEC's financial literacy curriculum board page for more information.
"Being a Financial Advisor and founding a nonprofit focused on financial literacy, I am proud to be a part of the NFEC's curriculum advisory team and be able to impact students from across the country. Their approach of bringing educators together with financial professionals will provide relevant financial education coursework to our youth," said Stan Webb, CFS Certified Fund Specialist and Certified Senior Advisor, President of Stan T. Webb Cos. Inc., and co-founder of the 501(c)3 Minerva Foundation for Financial Literacy.
Past collaboration with leading financial educators and experts yielded the current NFEC youth financial literacy curriculum, which is widely used by schools, government organizations, non-profit groups, and concerned citizens around the U.S. "Bringing educators and financial professionals together has proven an effective mix to balance educational standards with practical information that will help our youth succeed in an increasingly complex financial world," states Traci Allan of the NFEC.
The NFEC's mission is to create a world where people are financially capable to make sound, effective financial decisions that improve their lives and the lives of people they influence, all around the globe. The NFEC's collaboration with top financial educators and professionals produces turnkey financial literacy products and services that minimize the time and investment needed to implement an effective financial education initiative.
###