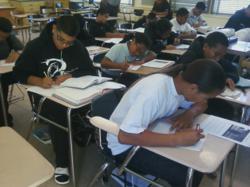 Los Angeles,CA (PRWEB) December 07, 2011
With the current economic challenges that are facing individuals globally, the NFEC announces the Community Ambassador program to provide concerned citizens and organizations complimentary financial literacy resources that are designed to improve the financial capability of youth.
Leading financial education experts suggest that children and teens across the country should receive a financial education before moving out on their own. Many of the problems citizens are facing today are directly related to the lack of personal financial knowledge. The President's Advisory Council on Financial Literacy went so far as to state "The economic future of the United States depends on it [financial literacy]."
To reach an increasing number of people, the NFEC developed the Community Ambassador program so complimentary financial education material can be provided to communities across the country. The NFEC qualifies Community Ambassadors by their passion for sharing financial literacy with their community.
The Community Ambassador's role is to provide complimentary financial education material to educators, parents, students and concerned citizens. This campaign follows the NFECs' holistic approach to teaching financial literacy by providing tools designed to educate the youth and tools for those that support the development of children.
The ambassadors will provide financial education resources that are a part of the NFECs' Financial EduNation campaign. These complimentary tools include: financial literacy curriculum, PowerPoint presentations, the 'Family Money Talk' guide for parents and exclusive Money XLive celebrity videos that teach kids about money.
Besides the complimentary financial literacy resources, the NFEC provides the ambassadors the tools needed to promote financial literacy within their community. Ambassadors receive emails, press release and letters to community leaders that they can pass on to raise awareness about the financial literacy movement.
Cecile Abad, Community Outreach Director of the NFEC states, "Ambassadors can make a significant impact on the lives of those they reach. Just by helping one person avoid a financial pitfall or helping them develop good money management habits early can improve many areas of their life".
The National Financial Educators Council is a social enterprise organization that provides financial education material to organizations and individuals globally. The NFEC is committed to providing financial literacy resources to groups looking to maximize the effectiveness of their initiative while reducing the cost and time associated with building a financial literacy program from scratch.
###