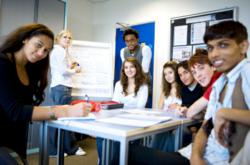 We have needed a national financial literacy campaign that provides tools for those that support the development of our youth. We commend the NFEC and their partners for developing the Financial EduNation Campaign
Orange County, CA (PRWEB) November 16, 2011
There is an epidemic sweeping our country will condemn many of our children to a lifetime of stress and hardship. The financial illiteracy problems that are facing our citizens often spill over and cause problems in many areas of their life.
But there's good news. Enter the National Financial Educators Councils' Financial EduNation, a campaign that provides organizations and communities with solid resources for combating financial illiteracy at the local level. The launch date of this Financial EduNation campaign will launch this New Year, January 1st 2012, and will offer personal finance resources for students, parents, educators and the community.
With the support of positive celebrity role models, the NFECs' Financial EduNation is designed to educate while it raises awareness about improving the financial capability of our youth nationwide. The campaign provides more than 30 tools aimed at providing the tools needed to provide our youth a practical financial education. This includes financial education resources for parents, educators, community members and financial professionals so they can share personal finance lessons with today's youth.
The financial literacy resources provided for educators participating in the Financial EduNation Campaign include: financial education curriculum, the 'Real Money Experience' PowerPoint presentations, after-school programs, testing and video instruction on how to teach financial literacy effectively.
"Most students enter the real world unprepared for common financial challenges," says Traci Allan of the National Financial Educators Council. "Providing complimentary educational tools to people with a passion for helping today's youth succeed financially will make a lasting impact."
Parents will find many useful tools in the Financial EduNation resource center. The most popular is the "Family Money Talks" guide. "Family Money Talks" offers practical tips for teaching kids about money and relating money skills to real-world situations. These fun family discussion topics may inspire children to take positive action and begin using some of the student-specific tools on their own.
According to Ms Allan many of those in contact with the NFEC state, 'I wish I'd learned about money when I was young.' She continues with advice for those that believe in that statement, "now's your chance to make a difference in the lives of today's children. We encourage all those passionate about financial literacy to join the Financial EduNation movement this New Years."
The National Financial Educators Council(NFEC) developed the Financial EduNation campaign to promote foster positive money management habits in our youth. The NFEC is dedicated to giving communities the resources they need to empower today's youth with the information necessary to make financial decisions that can improve their lives, the lives of their loved ones, and the lives of their global network.
###