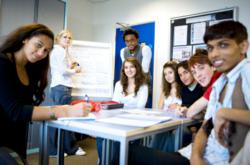 Los Angeles, CA (PRWEB) December 08, 2011
Some experts declare the recession is over. But is it? Debt, foreclosure, bankruptcy—the results of financial illiteracy—are sweeping the nation like an illness that's reached pandemic proportions. But good news is here for communities across the country: the National Financial Educators Council's 'Financial EduNation Campaign' is launching in 2012 to provide complimentary financial education material to combat the financial illiteracy problem.
Financial EduNation is a financial literacy program endorsed by positive celebrity role models, educators and community leaders. The campaign provides complimentary resources that can be tapped by educators, parents, students, and concerned citizens. More than 30 resources make up the campaign's toolkit, all focused on empowering people to give today's youth solid, practical money skills.
The Financial EduNation resource center, which will be available starting January 1st 2012, offers financial literacy curriculum, educator training, parent tip sheets, exclusive celebrity educational videos, after-school programs, educational articles, media kits, training videos, and more. Anyone with an interest in helping young people learn crucial financial skills may make use of these resources.
Besides youth education, the campaign also focuses on raising awareness and spreading the financial literacy message. Financial EduNation accomplishes these goals by enlisting support from top athletes and celebrities while conducting a nationwide media and outreach campaign. Local Community Ambassadors also play a key role in conducting outreach and educational efforts.
"The NFEC commends the efforts of those dedicated citizens that are serving as Community Ambassadors. Because of their efforts we can improve our children's lives by equipping them with personal finance skills," states Vince Shorb, Chief Marketing Officer of the NFEC.
The Financial EduNation campaign was created by the National Financial Educators Council(NFEC) to address the growing need for financial literacy training. The NFEC has partnered with organizations globally to improve the financial capability of people. Providing events, material and training resources to organizations, the NFEC reduces the cost of program development so organizations can focus on outreach.
###