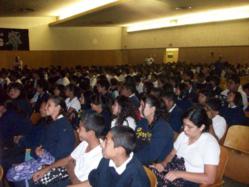 Irvine CA (PRWEB) November 15, 2011
Education is the strongest predictor of adult success, and Travel 4 Education's primary purpose is to educate middle school-aged youth and their parents about career options. The organization's hands-on field trip programs provide experiential learning whichexposes students to the many available career opportunities. Travel 4 Education's goal is to motivate students, through early career exposure programs, to acquire higher education and thus increase their odds of success in adulthood.
A key component of Travel 4 Education's field trip itinerary is the National Financial Educators Council's (NFEC) Financial Literacy for Kids program. The NFEC delivers financial literacy material and presentations to teach kids about money in a fun and engaging, yet practical way. This activity-based presentation, based off the NFECs' Real Money Experience financial education curriculum, takes students through essential lessons in personal finance delivered through various games and skits.
"By adding financial literacy training to our career exposure programs, we create a cohesive and comprehensive package that will not only connect our youth to jobs, but will teach them how to successfully manage the money they will acquire during their lifetimes. Our experience with the NFEC has far exceeded our expectations and we appreciated that they customized their Financial Education for Kids program to fit the needs of our participants," states Melanie Y. Cole-Gomez of Travel 4 Education.
The Travel 4 Education program helps schools and nonprofit organizations that serve low- to moderate-income families to address the higher dropout rate in those areas. Career exposure programs encourage participants to connect with rewarding, fulfilling careers. The goal is to ignite their career passions, helping youth focus on a positive life path instead of on drugs, alcohol, teen pregnancy, and gangs.
"The Travel 4 Education program participants are having fun and engaged in the learning process," states Vince Shorb of the NFEC. "As they find careers that pique their interest, their eyes light up and you can feel the excitement in their voices. The NFEC is honored to be a part of a program that intensifies their drive to stay focused on positive goals they want to accomplish in life."
Travel 4 Education exposes junior high students to potential careers, helping them develop personal reasons to stay out of trouble and on the path toward higher education. The life skills and financial literacy portions of the educational field trips provide participants the 21st-century skill sets they need to stay on a positive course and improve financial capabilities. This program has been delivered throughout the Southern California area and is expanding nationwide.
The National Financial Educators Council provides custom financial literacy training programs designed to improve organizations' financial capability and inspire participants to continue learning about personal finance topics. The NFEC has served more than 100 nonprofit organizations, schools, and community organizations internationally and is a leading advocate for teaching kids about money at a young age.
###