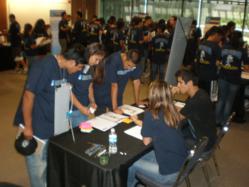 This event did more to prepare me for my future than any other class I have ever taken. I'm moving out next year and I know I will use the information they gave me.
Los Angeles, CA (PRWEB) November 30, 2011
The National Financial Educators Council (NFEC) has select five locations to host the Real Money Experience financial education workshop and will locate seven more locations to round out the 2012 tour.
During the Real Money Experience financial literacy workshop, high school and college-age students visited twelve separate booths and practice making the monetary decisions they are likely to face when they move away from home. Participants will complete their personal budget as they decide on the type of car they want, how much they want to save, whether they will rent an apartment alone or with a roommate, learn about simple investment strategies and other topics designed to prepare them for the 'real world'.
Five events have been planned to reach high school students in California, Pennsylvania and Florida. The NFEC is seeking to expand this tour to seven other communities across the country between March 2012 and December. Past RMX events have been produced for the Simon Family Foundation and Penn State Erie, the Behrend College and several other non-profit organizations have.
"Although the NFEC currently limits the full-production Real Money Experience event to select organizations, there is the RMX financial literacy game that can be played in a classroom style setting that is available to all groups that want to empower those they serve with personal financial skill sets," states Vince Shorb, Chief Marketing Officer of the NFEC.
The NFEC partners with concerned citizens, financial professionals (Realtors, financial advisors, insurance representatives, etc.), community groups and non-profit organizations to be the host ambassador who brings financial literacy to the community. All host ambassadors also are included in a media campaign to help the raise awareness about their organization and the need for financial literacy.
The Real Money Experience financial literacy workshop was designed to be practical yet it meets national financial education and core subject standards. The RMX event leverages experiential learning techniques to improve participant interest while helping students gain the knowledge needed to align financial decisions with the participants' personal goals. Past graduates of the program have demonstrated improved retention rates and post-test scores.
The National Financial Educators Council (NFEC) produces financial education resources for people of all ages. The youth financial literacy workshops provide high school and college-aged youth in an active learning experience that can have a lasting impact. The RMX financial workshop brings fun, high-energy financial literacy training to organizations and individuals nationwide.
###