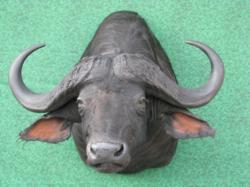 This is something you will never find for sale.
Fort Worth, TX (PRWEB) September 28, 2011
The second largest Cape Buffalo ever taken, a record book mount with a 56-inch spread, will be just one of many exotic and unusual taxidermy mounts being liquidated at the celebrated World Class Big Game Trophy Mount & Western Auction in Fort Worth, Texas. One of the largest sales of its kind in the country, it will have about 1,400 total items for sale to the general public. The hunting trophies, animal rugs, fish and bird mounts being offered are from a museum and private collections of big-game hunters.
This is a great opportunity for anyone looking to make significant, mind-boggling changes to their home's interior design in the Fort Worth area.
The Cape Buffalo will certainly stir up conversation for anyone who purchases it. "This is something you will never find for sale," said John Brommel, sale organizer and owner of the Corner Shoppe in Austin, Texas. "It's a monster. It's every hunter's dream to have. Honestly, it is the most ferocious animal ever to be hunted."
Another unusual item available for collectors is a Polar Bear shoulder mount. The auction has never had one of these before since they usually have full-body mounts available, not simply a shoulder mount. Looking for more uniqueness? A huge Musk Ox full-body mount and shoulder mount will be available. Both these items probably fall into the "heavyweight taxidermy" items category.
Auction visitors will be surprised by a bevy of decorative items. Designers could find a deep affinity for Zebra rugs that are available for bidding. Also available will be a 1986 G. Harvey bronze statue entitled "Taking Stock."
When coming out to the auction, some people have noticed in the past that it has a certain museum-type feel to it – a natural history museum, if you will. A number of bronze and aluminum wildlife statues, some valued at $25,000 – including life-sized aluminum Bufflaloes – can raise eyes of both young and old alike.
Of the hundreds of species of African and North American wildlife offered – some record book, there are a number of taxidermy mounts including pure White Peacock, Leopards (between 6-7, including three full-body and shoulder mounts, along with a rug), Buffaloes, Longhorns, Elephant head, Tigers, Grizzly, full-body Wolves, Black and Brown Bears, a large Elk – almost as big as the Cape Buffalo, two four-horned Sheep from New Zealand, a curly horned Corsican ram shoulder with a thick, furry cape, five Moose, a full-body Kudu and Zebra, 20 huge Elk, Scimitar Horned Oryx, Sassaby, Sitatunga, Topi, Oribi, Puku, Watusi, Klipspringer, Blue Wildebeest, numerous fish including Sailfish, Rainbow Trout and Tarpon, and lots of ivory carvings – including a pair of 77-inch ivory elephant tusks weighing between 62-64 pounds.
Also up for bidding will be numerous new Bomber jackets and hunting jackets, which will be sold in bulk. These are great for dealers. Want more? Look through old military uniforms that come from an estate sale.
In addition to the taxidermy, there is a large selection of furniture and accessories such as unique bronze animal and western statuary, including some by renowned artists Rick Taylor, Carl Wagner, and Clyde Boney, antler tables, lamps and chandeliers, rustic décor items, antlers, horns, skulls, African spears and carvings, ivory carvings and framed art. High quality rugs and hides like Zebra, Axis Deer, Alpaca, cowhides, Leopard, Black Bear and a 9 foot long Grizzly Bear, Tiger, Sable and Wolf will be offered to the highest bidder. The cowboy and Indian collectibles and artifacts include arrowheads, Indian jewelry, saddles and knives.
Anyway, where else can you find two Squirrels drinking Miller Lite or see raccoons paddling canoes?
The auction is Friday, October 14th starting at 11a.m. and Saturday, October 15th starting at 10a.m., at the Will Rogers Memorial Center, 1 Amon Carter Square, Exhibits Building 1 in Fort Worth, Texas 76107. The preview is Thursday, October 13th, from 1-7p.m. and Friday, October 14th, from 9a.m. to 11a.m. For more information, visit http://www.TaxidermyKing.com or call John Brommel at The Corner Shoppe, (512) 451-7633, or on the week of the auction at (817) 338-4801. Texas auctioneer Bruce McCarty #11698.
###