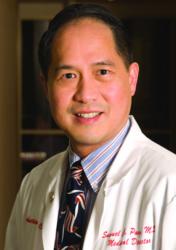 The Reproductive Science Center was the first reproductive assistance provider in New England to help a gay male couple have a baby through IVF using donor eggs and a gestational surrogate.
Boston, Massachusetts (PRWEB) October 14, 2011
Dr. Samuel Pang, Medical Director at the Reproductive Science Center of New England, presented "Family Building Options for Gay & Lesbian Families Using Assisted Reproductive Technologies" at the 2011 Gay and Lesbian Medical Association (GLMA) Annual Conference September 21-25 in Atlanta, Georgia. This is the second year that Dr. Pang, a national authority on assisted reproduction for gay and lesbian couples, has been invited to speak.
The GLMA conference is the world's largest scientific meeting focusing on lesbian, gay, bisexual and transgender (LGBT) health. The conference is remarkable for its size, scope, and diversity of programming.
Dr Pang, a Reproductive Endocrinology and Infertility specialist, has been helping lesbian couples become parents through assisted reproductive technology (ART) since 1989. Typically lesbian couples, without infertility issues, conceive using donor sperm and intrauterine insemination (IUI). More recently, however, Dr. Pang has pioneered a Reciprocal IVF treatment in which one female partner provides the eggs (fertilized using donor sperm) and the other female partner goes through embryo transfer, carries the pregnancy and gives birth. While a more costly process, many lesbian couples choose this treatment model because it enables both partners to play a physical role in the conception of their babies.
In 1998, Samuel Pang, MD and the Reproductive Science Center became the first in New England to facilitate IVF using donor eggs and gestational surrogacy for gay male couples. Since then, Dr. Pang has assisted male couples from the United States, Europe and South America become parents.
More recently, Dr. Pang and RSC New England have provided fertility preservation services for a number of transgender individuals. The hormonal treatments that male-to-female individuals undergo as they transition are likely to cause suppression of spermatogenesis. To preserve one's ability for the possibility of parenting a child, sperm must be collected, frozen and stored at a sperm bank.
Future reproductive options for a male-to-female person would include insemination if in a relationship with a woman or, if in a relationship with a man, insemination of donor eggs and embryo transfer to a gestational surrogate.
Female-to-male individuals also go through fertility damaging hormonal treatment. These individuals have the option for their eggs to be retrieved, frozen and stored in an egg bank. However, egg freezing is still considered experimental and may not be effective in achieving a future pregnancy. In vitro fertilization (IVF) before transitional treatment is a more reliable course for fertility preservation. This involves egg retrieval, insemination with donor sperm followed by cryopreservation storage of resulting embryos.
The Gay and Lesbian Medical Association (GLMA) is the world's largest and oldest association of lesbian, gay, bisexual and transgender (LGBT) health care professionals. GLMA was founded in 1981 as the American Association of Physicians for Human Rights with the mission of ensuring equality in health care for LGBT individuals and health care professionals. Today, there is still considerable ignorance about LGBT health issues, with many assuming that LGBT health involves only HIV/AIDS. In fact, the full scope of the LGBT health agenda includes breast and cervical cancer, hepatitis, mental health, substance abuse, tobacco use, depression, access to care for transgender persons, reproductive health, and other concerns.
The Reproductive Science Center of New England is among the 10 largest fertility treatment providers in the United States. In addition to diagnosis and treatment of infertility, RSC New England provides assisted reproductive services for gay, lesbian and transgender persons. The Reproductive Science Center has clinics in Massachusetts, New Hampshire and Rhode Island.
RSC New England is a partner member of the Attain Fertility Centers national network of infertility treatment providers -- the largest in the nation.
###