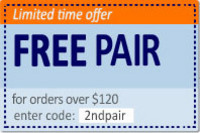 The buy one get one free offer is our most generous to date, and this is coming after the last offer we had was hailed as being among the most generous offers on the web
New Jersey (PRWEB) March 2, 2011
Welcoming the month of March, GlassesUSA.com is giving its customers something to celebrate with their offer of a free pair of eyeglasses with any purchase of $120 or more.
Jay Engelmayer, the Vice President of Business Development for GlassesUSA.com, says, "This is a very exciting time for GlassesUSA and by extension, our customers. The buy one get one free offer is our most generous to date, and this is coming after the last offer we had was hailed as being among the most generous offers on the web. Our customers know they can expect quality glasses from us as we provide the best quality eyeglasses in the market and with this offer – people have a double confirmation of that."
GlassesUSA has become a leading online retailer for affordable prescription eyeglasses and sunglasses and prides itself on providing superior customer service to each and every customer, through a variety of means - including phone, fax, email and online chat. Therefore, when buying a pair of high quality discount eyeglasses from the company, customers receive a full service package - affordability, reliability and convenience all in one purchase.
"This offer is really a gift to our customers for their loyalty and contribution to our amazing success. We knew in the beginning that getting people to trust the concept of buying eyeglasses online was not going to be easy, but after two years of dedication to our customers and ensuring total satisfaction, we know the concept has settled in with hundreds of thousands of people," Mr. Engelmayer continued.
The New Jersey based company believes that its buy one get one free offer allows it to reward its valued and loyal customers for coming to them and trusting them to take good care of their eyes.
For more information on the free pair offer, please contact customer service.
###