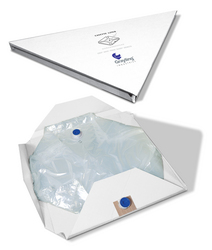 "Some of the processors that I have been working with have realized savings of up to 30%"
Alpharetta, GA (PRWEB) March 29, 2011
Grayling Industries, a leading manufacturer of intermediate bulk container liners, announces the introduction of the Guardian™ cassetted form fit liners designed to work with any corrugated IBC tote on the market.
The bulk liquid IBC tote is essentially comprised of two components, the outer box or sleeve and the inner liner. The liner is arguably the most critical component of the IBC package as this is the only material that actually comes into direct contact with the product and is what protects the product from contamination or spoilage during shipping and storage.
The Guardian™ liners are "form fit" to match the interior dimensions of the corrugated shipping and storage containers. The "form fitting" of the liner to the tote eliminates folds and creases in the liner that can trap product and lead to a "short" filling of the container and/or excessive residual waste after dispensing.
The Guardian™ liners from Grayling are pre-attached to a cassette which helps to properly align the liner in the container prior to filling and reduces the need for an attendant to adjust the liner during the filling process.
Per Great Moore, a Territory Manager for Grayling, "Some of the processors that I have been working with have realized savings of up to 30% by utilizing Guardian liners in their totes."
Grayling stocks cassetted form fit liners for most of the popular brands and sizes of one-way corrugated totes for shipping and handling bulk liquid products.
Grayling Industries is a North American manufacturer of specialized flexible film products for industrial applications. Markets served are industrial packaging and environmental safety. Primary products are intermediate bulk containers and liners and products for contamination control on asbestos abatement projects. Brands include; Guardian™ IBC container liners for liquid and dry applications, PaperIBC™ containers and Avail™ glovebags, Control™ chemicals, D-Con™ disposable showers and Durapax™ disposal Bags for asbestos abatement.
# # #