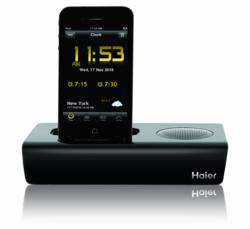 New York, NY (PRWEB) November 15, 2011
With the holidays just around the corner, Haier is making it easy to choose the right gift for iPod® and iPhone® enthusiasts with a selection of docking stations and an app-powered alarm clock.
Rise App-driven Clock Radio
Haier's app-driven FM clock radio provides a weather forecast and internet radio, turning your iPhone® or iPod® Touch into the perfect bedside or desk companion while it charges overnight. The unit features an integrated speaker along with snooze function and dimmer button to tone down the brightness of your device.
Model number IPDS-1/MSRP is $69.99
Flow Docking System
This iPhone and iPod docking system charges your device and produces intense sound that fills the room. A rotation button lets you position the player in portrait view or a landscape view ideal for cover flow. This smart design makes Flow great for viewing movies, using apps, or listening to music while using cover flow. The video output function adds to Flow's versatility, making connection to a large flat screen TV quick and simple so movies can be viewed on the big screen.
Model number IPDS-10/MSRP is $79.99
Move Portable Docking System
With this portable speaker and docking system for iPhone and iPod, there's no need to stay put or plug in when you want to share and enjoy your music in full, vibrant sound. Haier Move is stylish, and great while on the go. Take it anywhere: the bedroom, the backyard, or a friend's house. The rechargeable battery keeps your music going even when not connected to an outlet. Travel case and remote control included.
Model number IPDS-20/MSRP is $99.99
About Haier
Based in the landmark Haier Building in midtown Manhattan, Haier America is a division of the multinational Haier Group, the world's #1 major appliance brand as ranked by Euromonitor International 2010, and a global leader in consumer electronics. Haier employs more than 60,000 people around the world and distributes products in more than 160 countries and regions with global revenues reaching $20.7 billion in 2010. Haier is an Official Marketing Partner and the Official High Definition Television of the NBA and proud supporter of the National Parks Conservation Association. For more information, please visit http://www.haieramerica.com. You can also become a Fan of Haier America on http://www.facebook.com/Haieramerica or follow Haier America via Twitter @haieramerica.
###