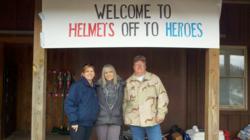 Summit Point, WV (PRWEB) December 08, 2011
Thirty veterans, active military and Wounded Warriors tried their hand at high performance driving at Summit Point Raceway in West Virginia on Veterans' Day, November 11. The event, "Helmets Off to Heroes," was organized by Miriam Schottland of DriveLab in Washington, DC. Curry's Auto Service, headquartered in Gainesville, VA, was a principal sponsor.
For 25 years with BSR Advanced Driver Training, Schottland has taught high performance driving and racing for the Federal Bureau of Investigation( FBI), the Defense Intelligence Agency (DIA), the American Automobile Association (AAA), as well as area police departments and the State Department. She regularly conducts driving clinics at the Summit Point Motor Sports Complex. She also conducts Sir Isaac Newton's Totally Awesome Driving School for teens in Fairfax County. Curry's Auto Service has worked with her to sponsor the teen driving events.
"In order to do high speed driving, you have to know what you're doing," says Schottland. "It's basic car control, knowing why a car does what it does. Cars are very predictable. They do what you tell them to do."
Schottland and her crew of 34 instructors conducted classroom training and car control exercises for the vets in the morning. These exercises included sessions on a skid pad, braking and slalom. In the afternoon the vets had high-speed track sessions on the Jefferson Circuit, a road-racing course with seven turns, accompanied by an instructor. They also had a chance to ride along with instructors.
Schottland said she contacted the Veterans Administration, the Wounded Warriors project and about 40 different military organizations to invite vets to the free event. She will be presenting another "Helmets Off to Heroes" event on Veterans Day in 2012.
About Miriam Schottland and Drive Lab
Miriam Schottland founded Drive Lab in 2008 as a driver safety training program. She uses the basics of physics, in particular, Sir Isaac Newton's Laws of Motion, to teach drivers about the mechanics of operating an automobile. Conducting several clinics a year, her mission is to reduce the number of deaths and injuries due to driver error. She has worked as chief instructor with a number of Washington-area auto clubs, including the Audi Club, BMW Club, Corvette Club, Mazda Club, Porsche Club and Ferrari of Washington, as well the National Auto Sports Association.
About Curry's Auto Service
Founded by Matt and Judy Curry in 1997, Curry's Auto Service was named "2010 Top Shop" by Motor Age Magazine. In June 2010, Curry's Auto Service was chosen by the readers of Northern Virginia Magazine as "Best Auto Repair Shop" in Northern Virginia. In addition, Curry's has received the highest AAA ratings in the country for customer satisfaction.
Operating nine shops in Northern Virginia and Maryland, Curry's Auto Service is one of the largest independent service and repair shops in the DC area, with more than 4500 customer interactions each month at its shops in Alexandria, Arlington, Chantilly, Dulles, Fairfax City, Falls Church, Gainesville, Gaithersburg, and Great Falls/Reston. For more information on Curry's Auto Service, visit http://www.currysauto.com/index.htm.
###