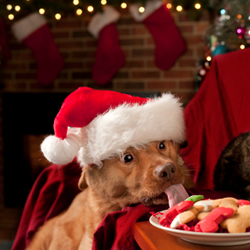 "During holiday gatherings, it's not uncommon to lose track of beverage glasses where dogs might reach them. Keep plenty of fresh water in your dog's bowl and keep a sharp eye on what he or she is drinking!"
Millstone, New Jersey (PRWEB) December 13, 2011
The holiday season means food, family, fun—and a lot of activity. As you go about your holiday celebrations, though, please remember how your four-legged best friends experience the holidays. These tips, developed by The Green Leaf Pet Resort & Hotel (http://www.greenleafpetresort.com) in central New Jersey with assistance from world-renowned trainer Shelly Leibowitz, will help guarantee that your pet has as happy and healthy a holiday as you.
1. Foods: Most people know that chocolate, especially dark chocolate and unsweetened baking chocolate, should be kept away from dogs. (Xanthines in chocolate can cause all sorts of problems, from urinary system damage to nervous system issues.) It's also important to keep dogs clear of grapes, which can cause kidney problems, as well as gravy, grease and other rich, fatty foods that can result in stomach upset or even pancreatitis. Blueberries, snap peas and a few special meats can be great holiday treats for your pet—but remember not to go overboard.
2. Alcohol: During holiday gatherings, it's not uncommon to lose track of beverage glasses as they're placed on floors, low tables and shelves where dogs can reach them. Many dogs are drawn to the aromas of eggnog, punches and sweet cocktails, and it doesn't take long for a thirsty dog to lap up the remainder of someone's drink—with potentially tragic consequences. Keep plenty of fresh water in your dog's bowl and keep a sharp eye on what he or she is drinking!
3. Plants: There's a widespread belief that poinsettias are toxic to dogs, but we're here to tell you that's not that case. Eating poinsettia leaves can cause upset stomachs, and the leaves and berries of holly can actually be fatal to some dogs. Mistletoe can also be a problem, creating anything from a tummy ache to heart collapse, depending on the breed and the specific dog.
4. Decorations: We all love decorating our homes for the holidays, but take a moment to ask yourself some common-sense questions about what all that decoration looks like from your dog's perspective. Does that table runner hang so close to the floor that it invites your dog to tug on it? Do decorations featuring loose yarn, ribbon and string hang close to the floor where your dog can play with them and possibly eat them? A few small adjustments now can help avoid big problems later.
5. Company: How large a concern this might be depends on the nature of your dog and the company visiting your home. If you have a mellow dog and you're inviting visitors your pet knows, you're not likely to experience a problem. If you're welcoming guests who are strangers to your dog, however, it's probably a good idea to brush up on your obedience training – and don't forget to let your guests know if there are any special house rules where your pet is concerned so that they don't inadvertently invite aggressive behavior.
6. Boarding: If you are going to be very busy with company and unable to really attend to your pet, or you are traveling and need to leave your dog with someone (of course, we hope you'll consider giving your pet his or her own holiday at The Green Leaf Pet Resort & Hotel), arrange to have a good supply of your dog's regular food on hand for those who will care for him or her in your absence. A good dog boarding facility will make sure they understand your dog's unique diet, and will customize the care your dog receives so that your pet can adhere to his or her routine.
Your dog is unique—and, like you, your dog needs to have exercise and rest according to their specific needs and a regular schedule throughout the year—holidays included. Remembering how the holidays have the potential to affect those needs and schedule, and perhaps making a few small adjustments, will help guarantee that you and your dog both have a very safe, happy and healthy holiday season.
About The Green Leaf Pet Resort & Hotel
Acclaimed for training by control through kindness, The Green Leaf Pet Resort & Hotel is your dog's ultimate vacation destination daily and long-term, providing customized personalized care, exercise, training, grooming, fun, health and wellness in a serene, secure and luxurious natural setting. Follow The Green Leaf Pet Resort & Hotel on Facebook at facebook.com/GreenLeafPetResort.
For press/media information or to arrange interviews contact:
BP Media Relations
Barbara Pflughaupt | 212-707-8181
Alan Miller | 917-412-0166
###