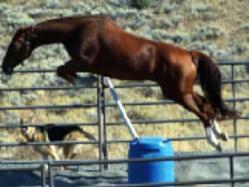 Vogue was suffering from equine herpes and vaccinosis, horse allergies caused by reaction to vaccines.
Klamath Falls, OR (PRWEB) June 02, 2011
Linda Bogotay, a resident of Klamath Falls, has been named the year's top recruiter for Dynamite Specialty Products, which makes all-natural horse feed and nutritional supplements.
Bogotay became involved with Dynamite in 2007 after she credited Dynamite with saving her mare Vogue, who had been suffering from mysterious horse allergies for more than two years. The horse allergy symptoms included oozing sores, sensitivity to light and sound, seizures and diarrhea. Several veterinarians had advised Bogotay that her that the horse was untreatable and should be euthanized.
Finally, she went to Dr. Regan Golob, a Dynamite director. Golob diagnosed Vogue as suffering from equine herpes and vaccinosis, horse allergies caused by reaction to vaccines.
The treatment for Vogue's horse allergies and equine herpes required a number of Dynamite products, including S.O.D. Powder, which helps horse allergies caused by immune system responses, and Miracle Clay, a modern version of the ancient remedy of using clay to ease pain.
Vogue "consumed a UPS truckload of products and enough S.O.D. and Miracle Clay that Vogue's picture needs to be on the containers," Bogotay wrote in a story about her mare's battle with allergies and equine herpes. "Still, my Dynamite costs do not hold a candle to her previous treatment bills."
It took Vogue a year to recover completely. That was 2009, and Bogotay has been riding her ever since.
As a result, Bogotay herself became a distributor for Dynamite, a network marketing company. Last year she brought in nine new Dynamite distributors. "My friends know how sick Vogue was, and they have watched her recovery," she said. "She is the best testimonial possible for Dynamite products."
A family-owned business that has specialized in animal nutrition for four generations, Dynamite Specialty Products makes products for virtually every member of the animal kingdom. It has long developed feed and nutritional supplements for prize-winning racehorses and show dogs across the country. Its specialists in horse nutrition and animal nutrition can recommend exactly what vitamins, minerals and other supplements best support horses with laminitis, dogs with arthritis, cats whose owners make their own food, and cows with digestive issues. Dynamite has worked with veterinarians and university researchers to produce specialty foods to correct nutritional deficiencies in animals ranging from Canadian muskoxen to peregrine falcons to zoo exotics.
Dynamite horse feed, pet food and other products contain only natural ingredients, made in the United States for better quality control. Throughout its history of making natural horse feed, Dynamite has always looked at alternatives to animal by-products, antibiotics, chemical preservatives, fumigants, artificial coloring and other additives that have later caused horse allergies and other health problems. Its manufacturing processes are so stringently controlled that Dynamite has a separate mill to produce feed for herbivores, such as horses and poultry that are especially sensitive to contamination from meat needed by other species. Mills are in Idaho and Iowa.
Additional information on natural horse food and horse vitamin and mineral supplements is available at DynamiteSpecialty.com or by calling 800-697-7434. Vogue's story on her recovery from horse allergies and equine herpes is posted online.
###