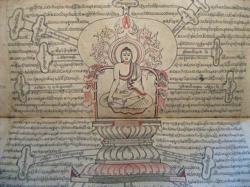 There just always is an energy surrounding our Houston festival
Fort Worth, Texas (PRWEB) October 15, 2011
The Phra Malai, one of the Orient's most impressive pieces of literature, will just be part of many items up for sale and display at this weekend's Eighth Annual Houston Vintage Book, Postcard and Paper Festival.
David Nutzman of StoneMonkey Books presents this 40-foot-long hand-painted manuscript that tells the story of Phra Malai. It is one of Buddhism's deepest stories.
The festival, put on by DM Promotions in conjunction with the Texas Booksellers Association, takes place Saturday and Sunday at the Stafford Center, 10505 Cash Road, in Stafford. Admission is $3.50 per person and is good for both days. Children are allowed in free with a paid adult. Festival hours are 10 a.m. to 6 p.m. on Saturday and 10 a.m. to 4 p.m. Sunday.
"Each year, we seem to bring out better and better books and items for our returning friends or newcomers," said Daniel Monsanto of DM Promotions. "There just always is an energy surrounding our Houston festival and I'm expecting another great event this weekend."
Houston is a city rich with history. Many books and postcards over the years have represented how the town has grown from simply a Downtown-centric focus to the Astrodome, Greenway Plaza, the Texas Medical Center, Loop 610 and Sam Houston Tollway. For longtime Houstonians, they will remember the Esperson Building at one time being the largest building of its type Downtown. How can anyone forget the Gulf Building with the big, rotating Gulf sign that greeted people either during the day or at night coming into Houston on Interstate 10?
Don't forget about the historic Rice Hotel and all of the important individuals that have spent nights there. Of course, Houston is named for Sam Houston, one of Texas' greatest statesmen. Don't be surprised if many items related to the city of Houston and its incredible growth show up at this weekend's book, postcard and paper festival.
Book readers and collectors will have a plethora of choices, ranging from new, used and antiquarian books covering varied subjects like history, war, Texana, sewing, children's interest, cooking, fiction and non-fiction areas of interest.
There are postcards featuring churches, modern chrome views of cities and rare hold-to-light ones.
Vintage paper products ranging from advertising, historical documents, autographs, paper currency, matchbooks, brochures, valentines, calendars, magazines, pin-ups, artist-signed prints and much, much more are waiting for your fingertips to touch and purchase.
Bookseller Shirley Dyess, of The Dust Jacket will display antique children's books, vintage cookbooks and books on Texas history including the rare title "Terry's Texas Rangers." One highlight of her collection is a delightful set of 1939 miniature books in a slipcase, "Tom Thumb" and "Thumbelina" with hand colored pictures. Dealer Bob Harper with Outdoor Visions specializes in rare big game hunting books with an emphasis on hunting in Africa, Asia and North America.
Charlotte Oleinik, of Homespun Classics, is offering a large collection of unique Boy Scout memorabilia, Campfire Girls books, vintage greeting cards and valentines from the 40's and 50's, paper dolls, railroad ephemera and a sewing section with vintage patterns. Other highlights of her collection are a 1949 program of the National Republican Dinner with Eisenhower and Nixon, a 1949 Texaco reunion item, Oilers and Buffalo Bills football programs, children's primers, children's books from the 30's, 40's and 50's on linen and books on the Titanic, with one from 1912.
The festival offers people that are either just starting out or veterans in collecting a chance to meet and learn from dealers and fellow collectors. Attendees can gain knowledge about book, postcard and paper collecting activities. For more information about this weekend's event, visit our website at http://www.houstonshow.com.
###