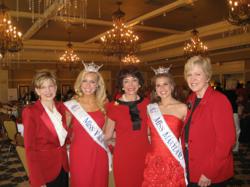 This is what happens when you turn ladies loose on a mission!
Vienna, VA (PRWEB) November 14, 2011
Forty women on a mission raised $62,000 to benefit the Red Cross in the National Capital Region. They raised the money through a silent auction of women's pocketbooks and a raffle, held at the Westwood Country Club in Vienna, VA, on November 4. The event, "In The Bag: Purses for Preparedness," is in its second year.
Brenda Blisk, Founder and CEO of The Blisk Financial Group and Chair of the event, welcomed participants to the event, saying "This is what happens when you turn ladies loose on a mission!"
A sell-out crowd of 256 (254 women and two men) attended this year's luncheon and auction. The event filled the ballroom at Westwood. One hundred twenty-five pocketbooks were sold.
Alison Starling, co- anchor of the evening news at Washington's WJLA-TV7, emceed the event, with help from Miss Virginia Elizabeth Crot; Linda Mathes, CEO of the Red Cross in the National Capital Region; and Miss Maryland Carlie Colella.
Keynote speaker Simona Foster-Jackson, a U.S. Army veteran, an executive with Wounded Warriors and a wounded warrior herself, described the activities of the Red Cross in support of wounded soldiers." On their first entry into the country, a Red Cross person comes out on the tarmac" to meet them, Foster-Jackson said.
She went on to describe a soldier who had lost both of his legs. His wife and three-year-old son were there to meet him as he returned home from combat. "The American Red Cross provides everything from cookies to books," Foster-Jackson said. "This particular soldier wanted Skittles. He was going into surgery. The Red Cross volunteer brought him Skittles. When they come off the plane and they are scared, the American Red Cross volunteer is there.
"Check out the bags, check out your heart; check out your soul... and give to the American Red Cross!" Foster-Jackson said. And they did, purchasing 125 pocketbooks and 14 raffle packages.
Included in the auction were celebrity bags from Ann Compton, national correspondent for ABC News; Kathie Lee Gifford, Savannah Guthrie, Hoda Kolb, Natalie Morales and Jenna Wolfe from NBC's Today Show; Former Miss America Phyllis George; Ivanka Trump, executive vice president of The Trump Organization; and Former Senator Elizabeth Dole, who served as president of the American Red Cross from 1991 to 2001.
Red Cross CEO Linda Mathes closed the event with thanks to everyone and an invitation to plan another "In the Bag" auction for 2012.The crowd applauded, with many signing up to help next year.
For more information, visit the website: http://www.redcrosspurses.com/.
###