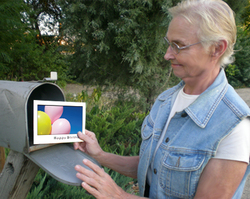 What a fun way to wish my friends or family happy birthday: just a few taps on my iPhone and I'm done! --Joe Coplan, Colgate University student
Nampa, ID (PRWEB) February 28, 2011
It's an event to get a real, printed card in the mail celebrating your birthday or other special occasion. However in today's high tech world most of us settle for emails, because emails beat hassling with stamps and cards. But now there is SnapShot Event, an iPhone app making it as easy to send an event postcard from your iPhone as an email.
"What a fun way to wish my friends or family happy birthday: just a few taps on my iPhone and I'm done," says Joe Coplan a student at Colgate University in upstate New York. "SnapShot is a mash up of new and old technologies that make it easy to send a picture postcard to my grandparents and then they think I'm great!"
Snapshot Event is a cousin to SnapShot Postcard, the popular iPhone application that sends "real postcards to real mailboxes." SnapShot Event adds the ability to choose from birthday, new baby, thank you or other artwork to build your event postcard. Borders or captions can be used on personal photos and distribution lists make it easy to send out party invites. http://bit.ly/SnapShotEvent
"We are particularly excited about the new caption feature," says Ben Price president of NSN Solutions, the creators of SnapShot Event. "Now SnapShot customers can add a caption or message of their choosing right on the picture. It's a great way to say thanks and more in a personal and meaningful way."
With any SnapShot product, you build your own custom postcard right on your iPhone, iPad, or iPod Touch. Snap a picture, or choose from the event image library for the front of the postcard. Then type in a message and choose your addressees for the back. Press the send button and through the magic of technology your custom picture postcard is printed complete with message, stamped, and delivered to the addressee's mailbox.
"Can't wait to have my baby so I can send out pictures of him" confesses Sara Pokorney from Nampa, Idaho. "I think I'm going to use the baby ducks and baby boy borders."
Snapshot Event and your first postcard are free and available through the iPhone App Store. Additional postcards sent to a US addresses cost one credit and postcards mailed to international addresses cost two credits. Additional credits can be purchased for as low as 80 cents (http://www.snapshotpostcard.com).
###