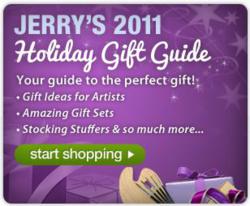 "As leaders in the art materials industry, every year we look forward to providing shoppers with great values, amazing savings and new ways to find the perfect gift for the artist on their list" says Director of Marketing Michael Marchetta
Raleigh, NC (PRWEB) November 27, 2011
Perfect for the 2011 holiday shopping season, Jerry's Artarama has posted its annual Holiday Gift Guide for Artists designed to make shopping for any artist easier than ever. Following in their first to market tradition, available on their website at http://www.jerrysartarama.com, the new Holiday Gift Guide is divided into shopping sections by both category and price range, so it's easy to find the perfect art gift with just a few clicks. And as always, these fun gift ideas for artists are available at Jerry's spectacular discount prices!
"As leaders in the art materials industry, every year we look forward to providing shoppers with great values, amazing savings and new ways to find the perfect gift for the artist on their list" says Director of Marketing Michael Marchetta
Whether shopping for a beginner or an experienced artist, there is something in the Jerry's Artist Gift Guide to fit any budget and in any art media. If on a tight budget, the "Shop by Price" section is an excellent option. Here, cool gifts for artists have been separated into price ranges for simple shopping. Find great stocking stuffers in the Under $20 section, kids' gift sets or fine painting sets in the Under $50 and Under $99 sections, and fantastic easels and deluxe art gifts in Under $200 and $200+ ranges. With so many art materials on sale at Jerry's low prices, it is simple to get the best deal on gifts for artists.
If shopping for a particular medium or type of item, the Jerry's Holiday Artist Gift Guide covers that as well. Divided into convenient categories like Paints, Brushes, Easels, Bestsellers and more, it is designed to guide shoppers quickly and easily to the perfect gift. It's simple to find a great painting set for a watercolorist, a sturdy French easel for a plein air painter, art instructional DVDs, drawing collections – even frames for finished artwork. These easy-to-navigate categories take the guesswork out of finding the ideal art gift for any artist!
Not only is Jerry's Holiday Gift Guide a fantastic source for art gift ideas and great prices, it's full of art materials from the greatest names in the business. All the best brands are listed, including LUKAS watercolors, Artograph projectors, Prismacolor pencils, Daler-Rowney screen printing kits, Charvin oils, Creative Mark easels, Cretacolor drawing sets, Sennelier egg tempera, Faber-Castell markers, Arches paper, Ampersand painting panels, Winsor & Newton brushes, Matisse acrylics, Martin F. Weber studio furniture, Iwata airbrush kits, Mungyo Gallery pastels and much more! The finest art materials in the industry are gathered together in this one Holiday Gift Guide, for giving the very best.
If pressed for time, looking for a last minute gift, or finding it hard to choose just one item, Jerry's also offers gift cards for the hard-to-shop-for artist. Available both as a physical gift card or and eGift card (electronic gift card) and in virtually any amount, gift cards are certainly the one size fits all option. In addition, the new eGift card service lets shoppers choose a design, enter a message, and send it directly to the inbox of a favorite artist friend or family member – the perfect holiday gift, delivered instantly.
It's never been easier to give the gift of art for the holidays than with the Jerry's Artarama Holiday Gift Guide! Shop by price, shop by category, shop gift cards, and get all the best art gifts delivered quickly and conveniently. The perfect present for any artist can be found at Jerry's Artarama.
###