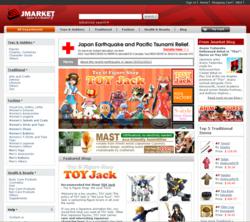 Los Angeles, CA (PRWEB) May 13, 2011
Advanced Video Communications, Inc. announced the official release of Jmarket.com (http://www.jmarket.com), a world's online market place for Japanese products.
Jmarket.com is a market place between customers and vendors in Japan.
Jmarket.com specializes in Japanese products such as Japanese toys and hobbies, Japanese traditional products, Japanese fashion, Japanese health and beauty products.
Japanese toys and hobbies include figures, anime products, cosplay costumes or character goods. Japanese traditional products include great quality traditional crafts like katana swords, tea bowls, hand-made products made by Japanese craftsmen, Japanese cultural items. Japanese fashion include trendy Tokyo style fashion for men and women, shoes, accessories or visual-kei, gothic, lolita items.
All the products at Jmarket.com are shipped directly from the vendors in Japan. Jmarket.com offers a great quality customer service as an intermediation of your wonderful shopping experiences.
There are 241 Japanese vendors which are active and open for business at Jmarket.com as of today.
Jmarket aims to become a unique figure for the world as a market place that specializes in Japanese products.
Advanced Video Communications, Inc.(AVC) is a premier developer of Internet solutions. We specialize in Video Chat, Rich Media and eCommerce systems utilizing cutting-edge technology and advanced development techniques. Our primary business targets are the Japanese and other Asian markets.
AVC was founded in 2004 and is headquartered in downtown, Los Angeles. We offer an exciting fast-paced environment with many challenging projects. We are large enough to provide a stable work environment yet small enough to present many opportunities for growth and advancement.
###