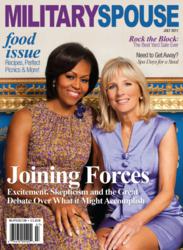 "To help civilians focus their efforts and achieve the goals of Joining Forces, we're surveying our community to find out what gestures of help or thanks they would appreciate most." Military Spouse magazine founder and executive editor Babette Maxwell
Pittsburgh, PA (PRWEB) June 20, 2011
Michelle Obama and Jill Biden issued a nationwide call in April for communities and businesses to reach out to military families. Since the launch of Joining Forces, civilians have begun considering how they might pitch in and military families have begun asking what this new program will mean for them.
In its July issue, now on newsstands at military installations throughout the country, Military Spouse magazine offers readers a behind-the-scenes look at the creation of Joining Forces. Obama and Biden appear on the cover and speak directly to the magazine's readers in an in-depth cover story.
"One of the big challenges we have as a country is making sure these families don't feel invisible in our nation, that they know the other 99 percent of us that are not serving are behind them every step of the way," Obama told the magazine.
"We have spoken to military families," Biden tells Military Spouse readers in the July issue. "We have learned a lot, and we've brought those ideas and what we heard back to our spouses and to the government."
Some readers have told the magazine that they're grateful to see the White House putting a spotlight on their lives. Other have questioned how Joining Forces or any other volunteer program will have a true impact on their lives. In response, Military Spouse has launched a large-scale survey of military families asking what types of help they want and need from the civilian community.
The survey, which has already gotten response from more than 750 military spouses, is announced in the July issue. Initial data from the survey will be unveiled in the August issue of Military Spouse and a full report will be shared with the White House once data collection is complete.
"We are thrilled that Michelle Obama and Jill Biden have called on civilians to reach out to our community," says Military Spouse magazine founder and executive editor Babette Maxwell. "To help civilians focus their efforts and achieve the goals of Joining Forces, we're surveying our community to find out what gestures of help or thanks they would appreciate most."
The survey will be open to military spouses (http://www.milspouse.com/joiningforces) until August, when the full results will be analyzed.
About Military Spouse:
Military Spouse magazine is the leading national magazine for the nation's 1.1 million current and 20 million former military spouses. The company also publishes G.I. Jobs (http://www.gijobs.com), the Guide to Military Friendly Schools (http://www.militaryfriendlyschools.com) and Vetrepreneur (http://www.navoba.com). For more information, please visit http://www.milspouse.com and follow us at http://www.facebook.com/militaryspousemagazine or on Twitter @milspousemag.
Contact: For interviews with Babette Maxwell or further information contact:
Barbara Pflughaupt or Judee Cohen, BP Media Relations, LLC
###