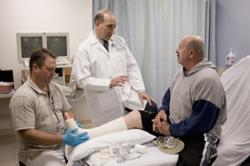 Burlington, Mass. (Vocus/PRWEB) March 30, 2011
Lahey Clinic Medical Center has been ranked seventh in the Boston-area in U.S. News & World Report's first-ever Best Hospitals metro area rankings, available online at http://health.usnews.com/best-hospitals/area/boston-ma. The new rankings recognize 622 hospitals in or near major American cities with a record of high performance in key medical specialties. There are nearly 5,000 hospitals nationwide.
To be ranked in its metro area, a hospital had to score in the top 25 percent among its peers in at least one of 16 medical specialties. The magazine ranked Lahey Clinic as "high performing" in eight of those 16 medical specialties, http://health.usnews.com/best-hospitals/lahey-clinic-6140690. They include: cancer, diabetes & endocrinology, ear, nose & throat, gastroenterology, geriatrics, gynecology, kidney disorders and orthopaedics.
Lahey Clinic Medical Center also remains ranked as one of the best hospitals in the United States for urology care according to U.S. News & World Report.
U.S. News created Best Hospitals more than 20 years ago to identify hospitals exceptionally skilled in handling the most difficult cases, such as brain tumors typically considered inoperable and delicate pancreatic procedures.
The new metro area rankings are relevant to a much wider range of health care consumers.
"All of these hospitals provide first-rate care for the majority of patients, even those with serious conditions or who need demanding procedures," says Health Rankings Editor Avery Comarow. "The new Best Hospitals metro rankings can tell you which hospitals are worth considering for most medical problems if you live in or near a major metro area."
For the full list of metro area rankings visit http://www.usnews.com/hospitals.
About Lahey Clinic
Lahey Clinic, a physician-led, nonprofit group practice, is world-renowned for innovative technology, pioneering medical treatment, and leading-edge research. A teaching hospital of Tufts University School of Medicine, the Clinic provides quality health care in every specialty and subspecialty, from primary care to cancer diagnosis and treatment, and for virtually every other specialty need. For more information please visit our Web site at http://www.lahey.org.
###