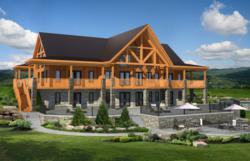 The project could be responsible for over 100 new indirect jobs over the next 3 years, as both the development of the community picks up steam as well as home construction
The Coves at Round Mountain, NC (Vocus/PRWEB) April 02, 2011
The Coves at Round Mountain, located in the Blue Ridge Mountain Range of North Carolina will watch the walls of their 6000 square foot lodge go up April 9th. This marks a very historical moment, not only because of the revolutionary technology involved in making this happen, but also because of the timing. As the real estate economy has been very challenging for many years now, this is certainly a project that brings optimism to the entire country. The Coves Managing Partner Tim Ritch says although things continue to improve, their goal as a developer and a development is to grow the community to put themselves in the strongest position possible when the marketplace recovers. "With over 80 percent of the active communities in the North Carolina Mountains under some level of duress, our ability to continue to develop amenities, open new phases, keep a meticulous maintenance program and offer great service to our clients has provided a competitive advantage in the current depressed economy."
With a project of this size, it means job creation – now, and in the future. Ritch says up to 20 jobs will be created directly related to this project. However, the indirect jobs will be extremely significant. "I would guess the project could be responsible for over 100 new indirect jobs over the next 3 years, as both the development of the community picks up steam as well as home construction."
This is just the beginning of many great things to come. Over 100 custom housing starts and 30 cottage starts are expected over the next 3 to 4 years. "At the development levels, we would expect to open 3 new phases of development, construct our Toy barn, family campground, fly-fishing hunt, tennis courts and expand the equestrian center to accommodate more boarding," says Ritch.
The future is shining bright for North Carolina, due to this multi-million dollar project. "Long term, I expect The Coves to be a vibrant, energetic community of active adults which will provide the broadest array of outdoor activities in the Mountain region. This is a place that will be recognized, not just in the immediate area, but throughout the Eastern United States."
The project will officially kick off April 9th, with the raising of the walls of the Pisgah Mountain Lodge at The Coves at Round Mountain. Ritch says it will be an event no one would want to miss. "After looking at hundreds of options related to log construction, we decided to go to a company that will dominate the log home industry in the United States. With the shift in environmental sensitivity to "greener" building products and standards, Timber Block is able to deliver the appearance that a large part of the North Carolina mountain market is after while meeting energy efficiency standards that have never been seen in the log product industry. The decision to utilize Timber Block's technology for the Lodge was a statement of our belief in delivering all of our future clients what we feel is the best construction alternative available in the market today."
"Timber Block is honoured to be a part of the Pisgah Mountain Lodge at The Coves," says Craig Johnson, President of Timber Block USA. "The owners and visitors at The Coves are going to be very impressed with the Lodge. Visually, it is stunning and spectacular but the amenities are going to provide a significant benefit to the residents at The Coves."
The walls of the Pisgah Mountain Lodge will go up Saturday, April 9th in the morning, and will finish later the same day.
ABOUT TIMBER BLOCK:
Timber Block's team of professionals offer a product unmatched in residential or commercial log and timber construction, which provides clients with state of the art , environmentally responsible technology combined with cost-effective building methods. Delivering stock or custom products, the team at Timber Block works within partnerships, maximizing the aesthetic and investment, to realize the dream of each unique project. Timber Block provides custom or stock insulated log homes utilizing a revolutionary R-30 insulated log, which is a proprietary and patented product. Visit http://www.timberblock.com.
# # #