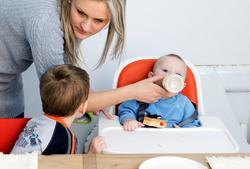 OXO products offer real benefits to the widest age range possible—and, now we have successfully expanded Universal Design to the youngest generation.
New York, NY (PRWEB) March 15, 2011
The OXO Tot Sprout Chair designed by Smart Design has been selected by the judges for a "best of the best" from red dot, the renowned international product competition. In the red dot award: product design 2011, the distinguished jury had 4,433 products to choose from when awarding this special prize. In addition, the OXO Tot Feeding line has been honored with a red dot product design award in this year's competition.
With Smart Design as its original design partner, OXO launched its first set of kitchen tools in 1990 to great acclaim. Considered the first commercial application of Universal Design (aka Inclusive Design), the products are considered iconic designs that are now part of the permanent collection in the Museum of Modern Art and others around the world. Through this design partnership, the OXO brand has branched into every room of the home and beyond. OXO products are designed to make everyday living easier for the widest possible spectrum of users.
The latest expansion is OXO Tot, an exciting new line of baby and toddler products that grow with children through their various stages of development and are designed to meet the needs of both kids and parents. As Davin Stowell, CEO and founder of Smart Design remarks, "OXO products offer real benefits to the widest age range possible—and, now we have successfully expanded Universal Design to the youngest generation."
About the OXO Tot Sprout Chair
Many common high chairs are designed with a particular age group in mind. The design tends to be rigid and inflexible. For OXO's new Tot brand, Smart Design conceived their new chair from a Universal Design perspective to provide a solution to the widest range of children possible. The OXO Tot Sprout Chair is designed as an extended use chair that grows with your child and her developmental stages, from 6 months to 5 years.
Stowell explains, "Based on extensive interviews and observations with parents, our design team uncovered the most meaningful ways to improve the high-chair experience. This chair was designed to have lasting value for people and eliminates the need for additional chairs as a child grows."
Brook Kennedy, Smart's Associate Director of Industrial Design and lead on the Tot products, describes some of the key benefits. "Seats, tray, harness, and footrests are all adjustable to accommodate children starting from 6 months old. For older children, the chair allows them to comfortably transition to the family dining table. And for grown-ups' convenience, Sprout requires no tools to adjust the seat, tray, or footrest."
With a mid-century modern aesthetic, it appeals to parents' tastes and yet provides kids real comfort, ease, and security. Neutral colors, clean lines, and elegant wood make the chair a piece of furniture that people want to live with for years.
Notes for Editors
The red dot design award
The red dot design award dates back to 1955 and is now the world's largest and most distinguished design competition with almost 14,000 entries from 68 countries in the year 2010 alone. More than 1,000 guests from the world of design, industry, society and media will celebrate the winners of the red dot design award on 4 July 2011, which traditionally takes place in Essen's opera house, Aalto Theater.
The OXO Tot Sprout Chair will then be put on display during a four-week special exhibition in the red dot design museum at the world heritage site of the Zeche Zollverein Coal Mine Industrial Complex in Essen, Germany.
More information at: http://www.red-dot.de/presse
About Smart Design
Improving daily life. That's what Smart Design strives to achieve with each and every design challenge presented. They have developed many iconic products that have withstood the test of time. Through purposeful innovation and design leadership, the company continues to deliver enjoyable and satisfying consumer experiences to people across the globe. In 2010 the company was named National Design Award winner for Product Design and they have been listed in Fast Company Most Innovative Companies.
Smart Design has a 30-year history of turning insight and innovation into successful consumer products, communications, and brands. Their multidisciplinary approach brings together experts in product, graphic, and interaction design, business factors, engineering, and design research to ensure that its solutions connect with people. Smart Design's consistent results are delivered by an international staff of 130 – working in teams across offices in New York, San Francisco, and Barcelona.
http://www.smartdesignworldwide.com
###