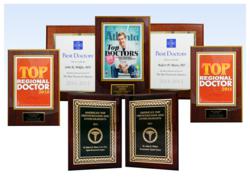 Experience, Results, Expertise
Atlanta, Georgia (PRWEB) September 20, 2011
Atlanta Urogynecology Associates is proud to announce that Dr. Miklos and Dr. Moore have each received 3 physician awards for 2011. Each award is a great honor for Dr. Miklos and Dr. Moore as they are peer nominated and voted.
Doctors John R. Miklos and Robert D. Moore are award-winning Master Surgeons who are internationally renowned in the field of Urogynecology and Reconstructive Vaginal Surgery. As International leaders in laparoscopic and minimally invasive vaginal & reconstructive surgery. They are/have:

Fellowship trained in urogynecology
International experts in Laparoscopic Vaginal Reconstruction & Cosmetic Vaginal Surgery
World wide reputations and surgical expertise
Pioneers in minimally invasive vagina and bladder surgery
Current Advisory Board Member - American Association Gynecologic Laparoscopists (AAGL)
Dr. Miklos is the only fellowship trained Urogynecologist specializing in Vaginal Cosmetic Surgery to win this prestigious Castle Connolly award. In conjunction with the Castle Connolly award, Thousands were surveyed for the June issue of Atlanta Magazine and only a top percentage of doctors were included in the prestigious directory. Dr. Miklos has been a Castle Connolly Top Doctor each year, since 2001.
Dr. Miklos and Dr. Moore have been voted Best Doctors in America® 2011-2012. This is the result of an exhaustive survey of more than 45,000 physicians in the United States. Doctors cannot pay to be included in the database and are not paid to complete the survey. The only way to be recognized as one of the Best Doctors in America® is for a doctor to earn high marks for clinical ability from his or her peers. Only those doctors recognized to be in the top 3-5% of their specialty earn the honor of being named one of the Best Doctors in America®. Voted Best Doctors in America® – 8 years
Dr. Miklos and Dr. Moore were listed in the 2011 Guide to America's Top Obstetricians and Gynecologists by the Consumers' Research Council of America. Dr. Moore was specifically recognized for his work in Vaginal Reconstructive Surgery. Voted America's Top Ob/GYN – 3 years
Additionally, both Dr. Miklos and Dr. Moore are to receive the 2011 International Society of Cosmetogynecology Award for Teaching Excellence when they participate as Keynote speakers at the Internatinoal Society of Cosmeticgynecology World Congress in Las Vegas, NV in September.
These awards contribute to Dr. Miklos and Dr. Moore's philosophy that when you select a surgeon, there is some basic criteria when choosing an expert in any field: Experience, Results and Expertise.
###