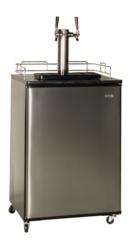 A Haier kegerator provides cold, refreshing draft beer to any party without the mess and waste of loads of cans and bottles.
New York, NY (PRWEB) May 18, 2011
Memorial Day parties are the perfect way to kick-off the long days of summer. Invite friends and family over to sit back, relax, and enjoy the warm sun, good food, and cold cocktails. To help put together a most memorable event, check out Haier's party products. Add to the fun of a get-together and make sure it all goes off without a hitch!
The Haier Dual Tap Brewmaster Kegerator
Offer guests just the thing to toast the start of the season, a crisp brew straight from your very own tap. A Haier kegerator provides cold, refreshing draft beer to any party without the mess and waste of loads of cans and bottles. Kegerators are also convenient, have a fun look, and keep beer cold without the risk of skunking that can happen with glass bottles. Keep half, quarter, and mini barrel kegs frosty cold all party long. The Dual Tap Brewmaster Kegerator is perfect for your celebration because you can have two different beers on tap at once. Be it ale or lager, you'll have something for everyone this Memorial Day weekend.
Portable Countertop Ice Maker and Dispenser
Keep guests' drinks cold without having to chop up store-bought bags of ice cubes that have frozen together or having a crowd gather at the fridge. This ice dispenser fits neatly on your countertop or any level surface and produces ice that is excellent for cooling individual drinks. Choose between large and small ice cubes to suit your preference. The glass holder accommodates single glasses up to seven inches high, so guests can replenish ice in their drinks individually as needed, leaving you free to mingle with the rest of the party. Providing easy access of up to two pounds of ice per hour, this unit is indispensable for those who love to entertain.
Write Fridge
Welcome your guests with a personal message written across the front of this unique compact refrigerator, or even have them sign it as a guestbook on their way in or out. The surface of this fridge works like a dry erase board; you can write notes, lists, and scribble directly on the surface--then simply wipe clean. The Write Fridge is perfect as a supplementary refrigerator for your special occasion. Keep party supplies like cut veggies, dips, even juices and mixers cold and close at hand. When it's not helping you keep your party pantry well-stocked, the Write Fridge is great for dorm rooms and offices.
Flow iPhone, iPod Docking System IPDS-10
The Flow iPhone and iPod docking syst em adds powerful sound to your celebration and charges your device, all in one stylish, compact unit. Invite your guests to share their own music collections from iPhone or iPod. A rotation button lets you position the player in portrait view or a landscape view ideal for cover flow, and the blue LED light circle adds a funky touch. Flow also comes with a video output function, which makes it quick and simple to connect to a large flat panel TV for viewing movies or sharing slideshows with guests. The remote control lets you direct the music from across the room.
Dual Can Dispenser Beverage Center HBCN05FVS
When it comes to keeping soft drinks cold, forget about filling a cooler with tons of ice only to have to empty out the water later. This 150 can capacity beverage center from Haier features wire shelves to keep your stock of soft drinks super cold and organized.
About Haier
Based in the landmark Haier Building in midtown Manhattan, Haier America is a division of the multinational Haier Group, the world's #1 major appliance brand as ranked by Euromonitor International 2010, and a global leader in consumer electronics.Haier employs more than 60,000 people globally and products are distributed in more than 160 countries and regions with global revenues reaching $20.7 billion in 2010. Haier is an Official Marketing Partner and the Official High Definition Television of the NBA. http://www.haieramerica.com
###