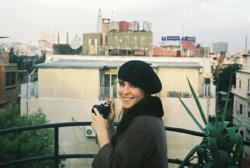 It is in this courageous, creative, and committed intellectual community that I hope to develop as a scholar.
Emma LeBlanc
(PRWEB) November 30, 2011
Emma LeBlanc, a fiction student in Southern New Hampshire University's Low-Residency MFA program, was this month named a Rhodes Scholar, the most prestigious academic scholarship awarded in the United States.
LeBlanc, who graduated from Brown University in June with a B.A. in sociology, resides in Damascus, Syria, where she is researching Syria's marginalized Bedouin community. She is an accomplished photographer and writer having published over 40 articles and photographs in periodicals including: GQ Magazine, Le Monde Diplomatique, The National, The Kurdish Globe, Syria Today Magazine, JO Magazine, Niqash, The Union Leader, Clerestory, Paper and Pixel, Mosaic, and Women's E-News.
Rhodes Scholars are not only chosen for their outstanding scholarly achievements, but for their character and commitment to others. "Emma is one of the most curious, kind, and generous young women whom I have ever known," said SNHU's MFA Director, Diane Les Becquets. "And her courage is expansive."
In addition to working as an English teacher and founding a scholarship program for students from Besease, Ghana, LeBlanc has worked as a photojournalist in Iraq, both independently and embedded with the 101st Airborne, and in Syria, Jordan, and Lebanon. Her projects of focus include: corruption in Iraqi prisons; the Awakening Council movement in Iraq's triangle of death; sectarian violence in Mosul; development efforts in Golan Heights; Iraqi refugees in Syria; and Syrian Bedouin culture identity.
LeBlanc will begin at Oxford next October, and until then will be working towards her MFA which involves completing her novel, as well as continuing to photograph Syria "at this important moment of question and transition," said LeBlanc.
Her novel follows a young Syrian man who comes to Damascus from the countryside as he discovers the darker sides of the city.
"It is a story of fantasies and desires, frustration and desperation, as the protagonist seeks to define himself, to control his own life, in an increasingly claustrophobic world," said LeBlanc. "I began writing the novel as a way of narrating certain stories of Syria that I couldn't fit into any other medium – characters that defied photographs, anecdotes too fantastic and unverifiable to be news, a certain nearly musical atmosphere. I wanted to explore and communicate this Syria to an audience that would have never seen, smelled, licked, caressed, wept for it before." LeBlanc said she also wanted to explore the liminal spaces between the English and Arabic languages. "I started writing this novel before the Arab Spring, but in may ways it is a window into the hope, discontent, fear, and determination that have defined these months of uprising," said LeBlanc.
Novelist and SNHU MFA faculty, Jessica Anthony, who is currently mentoring LeBlanc, said, "Hopefully everyone will now see what I already know about Emma LeBlanc: that she is a truly gifted writer, willing to travel to the places in fiction, and in life, which most of us fear or ignore. Armed with a vocabulary that would make James Joyce blush, Emma's prose shimmers and beckons, challenging us to not only question the way we write, but the way we see the world."
LeBlanc said she is excited to be part of this incredible community of scholars, leaders, and activists.
"It is in this courageous, creative, and committed intellectual community that I hope to develop as a scholar. I don't know where I will be in ten years – perhaps conducting anthropological research in the Middle East, perhaps writing my next novel, perhaps teaching, perhaps continuing my photography," said LeBlanc. "Or perhaps I'll be able to find ways of combining these different passions, these different strategies for exploring and sharing our diverse truths, by incorporating fiction into anthropological practice, for example, or refining photojournalistic practices through anthropological theory. I would like to contribute to challenging and redefining these fields, to reach new audiences, to better serve their subject communities, and to overcome the boundaries of our collective imagination."
###