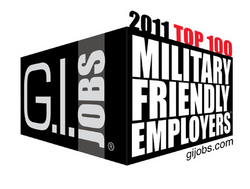 We have a particular affinity for veterans and those currently serving
Pittsburgh, Pa. (Vocus) November 10, 2010 –
Across all industries, from struggling banks to burgeoning energy firms, corporate America is capitalizing on acquiring military talent, according to G.I. Jobs' eighth annual list recognizing the nation's top Military-Friendly Employers®, http://www.gijobs.com/top100pr.
The list was drawn from a sample of 5,000 companies competing for the honor whose annual revenues exceeded $500 million. Criteria included the strength of company military recruiting efforts, the percentage of new hires with prior military service, and company policies toward National Guard and reserve service.
The military produces nearly 400,000 new civilian workers annually, making it one of the largest and arguably, the most valuable source of renewable, skilled talent in the country.
"We have a particular affinity for veterans and those currently serving," said John Lucas, senior vice president of human resources for Lockheed Martin, which is making its seventh appearance on the list. "More than 1,200 of our employees wear the uniforms of the Armed Forces, and 25,000 veterans are part of the Lockheed Martin work force. We are proud of them and honored by the designation from G.I. Jobs."
"Serving our country is extremely honorable and we are very proud to be a part of G.I. Jobs annual Top 100 list for the fifth year in a row," said Kirk Thompson, president and chief executive officer for J.B. Hunt. "We value the experience and leadership our employees with military backgrounds bring to J.B. Hunt, and we will always work hard to allow our employees to do both."
While unemployment nationwide still hovers around 10 percent, even companies with suppressed immediate hiring needs continue to reach into military talent pools when they want to increase staff or maintain employee levels by offsetting attrition. Why? Because highly skilled and reliable veterans can hit the ground running, and have the dedication, skills and training needed to get any job done.
The G.I. Jobs Military Friendly Employers® list, in its eighth year, serves as the primary benchmark of corporate recruiting programs aimed at veterans. The annual survey conducted by G.I. Jobs magazine is one of the primary tools used to determine the nation's most Military Friendly Employers®.
"This isn't about charity or patriotism. It's about good business. The companies on our list understand that," said Rich McCormack, who heads G.I. Jobs' list research.
Chris Hale, general manager of G.I. Jobs, notes that interest in hiring military veterans has never been higher. "This list serves to disprove a populist notion that veterans are having difficulty finding jobs when leaving the military." Hale bristles at what he calls inaccurate attention given to high unemployment rates for America's young veterans, citing the fact that some young veterans opt to take a break or return to college before starting a civilian career. "Given the operational tempo we're putting our troops through, wouldn't you?"
ABOUT G.I. Jobs
G.I. Jobs (http://www.gijobs.com) is published by Victory Media, a veteran-owned business, headquartered in Pittsburgh, Pa. The company also publishes Military Spouse and Vetrepreneur magazines. Follow us on Facebook at http://www.facebook.com/GIJobsMagazine or Twitter @GIJobsMagazine.
# # #