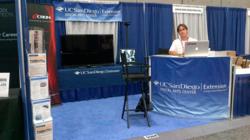 San Diego, CA (PRWEB) July 20, 2011
For those lucky ones who have a pass to this year's Comic-Con, the largest pop culture convention in the country, there is an amazing amount of job and career advice offered in the massive schedule of programs and exhibits.
This is the third year that UC San Diego Extension Digital Arts Center has a booth at Comic-Con. This year, they are offering valuable information about their programs in Casual Gaming, Mobile Apps, Graphic & Web Design and Video & Editing. The university extended studies program has partnered with one of its instructors, Demian Borba from Action Creations, to demo an interactive Microsoft Kinect game called BATTLE PADDLE: a game developed in Adobe Flash and loosely based upon Pong. The opponets play each other by controlling the paddle with their body movements. UCSD Extension will be posting action shots of their gameplay on the UCSD Extension Digital Arts FaceBook pages. They are also giving away a free digital arts class valued at $595 and Adobe Flash software valued at $699.
The Comic-Con convention spans four days, July 21-24, and is located throughout the Convention Center, Hilton San Diego Bayfront Hotel and Marriott Marquis & Marina.
The Digital Arts Center casual game development and mobile apps development programs provide comprehensive training in design and programming. The mission of our game design program, graphic design program, mobile application development program and video production program is to provide a well-balanced, high-quality education. We combine applied arts technology and techniques, related business practices and portfolio creation, in order to prepare students for entry-level employment and for professional advancement within their chosen fields.
To learn more, visit the Digital Arts Center reps all four days during exhibit hall hours at Booth #5564. Questions? Call 858.534.6705 or email dac(at)ucsd(dot)edu.
UC San Diego Extension is a division of the university's Extended Studies & Public Programs, offering 100+ professional and specialized certificate programs in a variety of disciplines. Nearly 50,000 adult learners attend classes each year at its facilities on the UCSD La Jolla campus, the University City Center, and the Mission Valley Center.
###