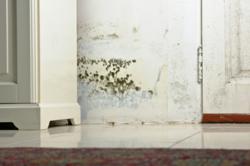 It can't be stressed enough that before hiring a mold testing company, people ensure this third party is certified and fully licensed.
(PRWEB) December 01, 2011
On HGTV's popular property renovation program Income Properties, the focus is typically on modernizing an old home or adding some pizzazz to a rental property. A considerably less appealing element made an appearance in one of this year's shows: mold.
Mold testing and inspection experts from Environmental Services Group were immediately called in to assess and handle the situation when a large collection of mold was found behind the basement walls. Environmental Services Group is the trusted source and resource for certified mold testing services in Toronto, the GTA and Ontario.
This was a smart decision. Homeowners need to know that when mold is spotted, the first thing to do is to contact a certified mold testing company to evaluate the problem and proceed with the immediate removal of this dangerous health hazard.
After the mold was safely eliminated and disposed of there was one more very important course of action to be carried out before the renovation could continue: a final mold test. It is critical following the removal of mold to verify that the source of the mold is adequately eradicated.
A mold test done by a certified third party mold testing company like Environmental Services Group will ensure the homeowner or property manager that the location is safe and the hazardous microbes won't return to harmful levels. In this case, the cleanup was successful; the mold test proved the environment safe and the project was back in action.
Like the professionals on Income Properties are, homeowners, commercial property managers, and the general public, need to be aware of the gravity of the existence of mold. It is ubiquitous, but often hidden. Mold can cause serious health issues, especially among the young, elderly and those with respiratory problems.
Professional mold inspection services can spot and prevent the further spread of mold, protecting families and businesses. Unfortunately, there are many unlicensed and unqualified people looking to take advantage of unknowing homeowners who discover mold on their properties. It can't be stressed enough that before hiring a mold testing company, people ensure this third party is certified and fully licensed.
It is recommended that everyone visit EnvironmentalServicesGroup.ca. Read their blog to better understand the real threat posed by mold. And of course, to book a mold test.
About Environmental Services Group
Environmental Services Group is the trusted leader for mold-free homes and breathable indoor air spaces in Toronto, the Greater Toronto Area (GTA), and Southwest Ontario. Providing certified mold testing and inspections since 2005, we service home owners, real-estate agents, landlords, property managers, insurance companies and businesses. Featured on CTV, Global TV, HGTV and Holmes on Homes Magazine, we are contractor recommended and regularly serve as expert witnesses in court proceeding relating to Mold and Indoor Air Quality issues. Call us today for a consultation at (416) 575-6111.
###