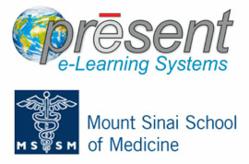 A curriculum on the management of inpatient glycemia was broadly adopted by medical residents at a large academic medical center and led to greater confidence and knowledge among residents.
Boca Raton, FL (PRWEB) July 26, 2011
The Mount Sinai School of Medicine's Inpatient Diabetes Management Course, developed using the PRESENT e-Learning Systems Mentor™ learning management system has resulted in the improvement of health in the patients whose doctors took the course, achieving a level 5 education outcome. The education program, funded by the Endocrine Fellows Foundation, initially taught 116 Internal Medicine residents inpatient diabetes management skills. The program subsequently has been expanded to the Brigham and Women's Hospital, a Harvard Medical School teaching hospital, and the University of Maryland School of Medicine. Results of the program appeared in the July 2011 issue of Postgraduate Medicine and is available in the August 2011 issue of Diabetes Care.
PRESENT e-Learning Systems is a medical education and communications company (MECC) that currently has three (3) public online education community websites for medical professionals:
1. Podiatry.com
2. PresentDiabetes.com
3. DermClinician.com
Offering educational programs including lectures, interviews, and other original content to over 100,000 members. Founded in 2004, PRESENT e-Learning Systems was the first company to combine online multimedia medical education, with CME credits, with social networking to create online education communities for healthcare professionals. In combining professional education with community, PRESENT has recreated the experience, online, that physicians, nurses and other healthcare professionals are all familiar with experiencing live…that of attending a clinical medical conference. PRESENT is skilled at producing streaming media medical education programming, employing still and video imagery, and animation to enhance the educational content.
To complement the online websites, PRESENT also has five (5) nationwide medical conferences (PRESENTConferences.com) during the year, for those who still like to travel and have the LIVE interaction while learning. PRESENT is based in Boca Raton, Florida, USA and employs 12 programmers, graphic artists, multimedia publishers and support people on a full time basis.
###