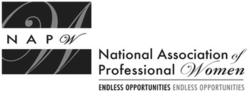 "Thank you, Patti for all of your knowledge and for sharing with the group."
Garden City, NY (Vocus/PRWEB) February 26, 2011
The first NAPW Bergen County Chapter meeting was called to order by the Chapter President Kathy Plummer, MHS. Refreshments were offered and introductions made as the roundtable forum began. Everyone introduced themselves, stated what they did professionally and personally and what they wanted to accomplish in 2011.
The guest speaker was Patricia (Patti) Carrerra, an insurance broker. She owns Carrera Brokerage LLC and her company specializes in health, dental and life insurance. She explained that she meets with individuals and organizations (for-profit and non-profit) to provide comprehensive quotes, plan options and financially stable health insurance programs with reputable companies. She is bi-lingual in English and Spanish, which is useful in her day to day consultations with clients. Her brokerage firm navigates and explains the Medicare program in a way that people can easily understand. This is generally done as a separate consultation and benefits individuals age 65 and older.
As a speaker, Patti was dynamic and passionate. At the conclusion of her presentation she provided all the members with Community Assistance Program discount cards that can be used at local pharmacies. The cards were provided at no cost.
"Thank you, Patti, for all of your knowledge and for sharing with the group," said Kathy Plummer.
The chapter thanked Nora for providing the venue for their meeting and Vashonna for her additional support in planning the meeting. The chapter thanked Marlene for her attendance and for being so gracious. The chapter is looking forward to viewing Marlene's art collection at a future meeting.
For additional information regarding the Bergen County, NJ local chapter and/or [NAPW please visit http://www.napw.com.
Follow us on Facebook and Twitter
# # #