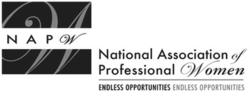 "We decided that we want to focus on a combination of networking, education and socialization..."
Garden City, NY (Vocus/PRWEB) March 04, 2011
Sue Moore, President of the Erie Chapter of the NAPW, welcomed members and guests to the first meeting. Those present introduced themselves as follows:
Marian Taylor, Challenge Promoter, self-employed with Visalis Science, Simple Solutions and Save Around coupon books.
Yvonne Horn, Senior Internal Auditor with Eriez, a Guest, new to her position and to the Erie area. Yvonne stated her intention to officially join the Erie Chapter and the NAPW.
Kathleen Dahl, Realtor with RE/Max Real Estate Group, recently won two awards: Top Transactions and Top Producer for Erie County.
Sandi Carangi, VP Business Services with Erie Federal Credit Union, has won several awards through her work with the credit union and will be traveling to Las Vegas to receive the most recent one.
Terri Koebe, Purchasing Manager with Eriez, has recently returned from a business trip to China.
Diana Denniston, a NAPW VIP member, the office manager for her husband's physician office.
Sue Moore, a NAPW Woman of the Year, CFO and co-owner of Decision Associates. She said that in her role she is responsible for internal marketing for their business.
The group discussed several questions about the organization and will seek answers from the national office. Some of the questions included dues structure, awards, sponsorships, reimbursement expenses, seminars/conferences and speakers.
A lively conversation was held as members got to know each other and discussed what they wanted to do with the chapter.
"We decided that we want to focus on a combination of networking, education and socialization," said Sue Moore, President of the Erie Chapter.
The group settled on chapter meetings being held on the second Wednesday of each month at 5:30 pm. There will be no meetings in July or August. The March 9 meeting will be held at Decision Associates, 1540 East Lake Road, Suite 100, Erie. Marian will bring sandwiches and Sue will provide beverages and dessert.
There were several topics of interest that we will focus on in the year ahead including: health, dressing for success and accessorizing, beauty tips, retirement, finance, etiquette, social networking safety, self-defense, stress management, balancing home and work, traveling safely, gardening tips and cooking. We also discussed attending events as a group.
Officers were selected as follows: Sue Moore, President; Diana Denniston, Vice President; Terri Koebe, Secretary; Yvonne Horn, Treasurer; Sandi Carangi, Education; Marian Taylor, Programs; and Kathleen Dahl, Membership.
The next meeting will focus on several questions on personal development, career planning, business challenges and leadership ability. We will also learn the art of "Downsizing your Purse." Members and guest are invited to attend. Please RSVP to Sue at suemoore@decisionassociates.net or call 814-528-9404.
For additional information regarding the Erie local chapter and/or [NAPW please visit http://www.napw.com.
Follow us on Facebook and Twitter.
###